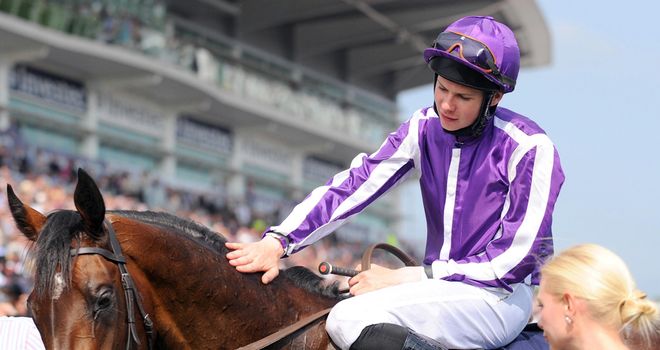 Camelot: Won the Derby
Aidan O'Brien's Camelot was a brilliant winner of the Investec Derby at Epsom on Saturday.
The 8-13 favourite was held up in the early stages by the trainer's son Joseph, as stablemate Astrology took them along at a sensible gallop with Thought Worthy keeping him company.
For a moment in the straight it looked as though Astrology might've nicked it under Ryan Moore, but Camelot came with a withering late run to land the spoils.
He was five lengths ahead of the staying-on Main Sequence (9-1) at the line, with Astrology (13-2) a short head back in third.
Special
The winning jockey said: "I was a bit worried as he didn't come down the hill at all. He didn't handle the track that well, so he did well to win.
"He's a very special horse and I'm just very fortunate to be on his back. I owe a big thanks to the owners and everyone in the yard."
Anne-Marie O'Brien, wife of the trainer and Joseph's mother, said: "I can't believe it, it's amazing.
"I met Lester Piggott last weekend and he said to tell Joseph not to be in any hurry (in the race).
"I'm really thrilled, it's incredible."
Triple bid?
Camelot could now bid to become the first horse since Nijinsky in 1970 to land the Triple Crown with victory in the Ladbrokes St Leger at Doncaster in September.
Part-owner Derrick Smith, seeing his colours carried to a first Epsom Derby win, said: "This is the one everyone wants in racing. To win the Epsom Derby is a dream come true.
"What a horse, what a ride. You could see from the three pole it was all over.
"It (the Triple Crown) must be (on the agenda), mustn't it, we might get pressurised into it, but we will talk with Aidan and make the right decision."
Coolmore supremo John Magnier said: "It (Camelot's brilliance) is there for everyone to see and we are fortunate to have anything to do with him, and it's particularly important in the year his father (Montjeu) died.
"We are going to have to take it race by race and give it lots of thought.
"Wouldn't anybody (be tempted by the Triple Crown)? These things get to mean more as you get older, if you had asked me 30 years ago I might have looked the other way, but we will have to see what Derrick (Smith) and Michael (Tabor) say about it."
Dream
O'Brien senior said: "You can't even dream of days like this. "I was always happy, I know his (Joseph's) body language by now and he looked confident.
"No-one can describe the feeling, things like this don't happen.
"We'll give the Triple Crown a lot of thought and the boys will make a decision and do whatever is best for the horse.
"The Triple Crown would be incredible."
Lanigan said of Main Sequence: "He's run a great race and to come second in a Derby with my first runner is amazing.
"It's been a long lead up but he settled well and did everything right.
"I don't know where he'll go next, I'll see what Ted (Durcan, jockey) and the owners say."
Reaction
Astrology was ridden by Ryan Moore, who said: "He's run a good race but just got tired in the last 150 yards."
William Buick was fourth on Thought Worthy for John Gosden and said: "I was very happy with him, he'll make a lovely Leger horse."
Gosden said: "He ran how I thought he might. He's finished fourth like his brother (Lucarno) and he'll do like his brother and head for the Leger."
Paul Hanagan was fifth on the Richard Fahey-trained Mickdaam and said: "He came home really well but didn't handle the track and didn't have the pace early in the race."
Fahey said: "He could be a Leger horse, but on the day he wasn't good enough. He needs a break."
The much-fancied Bonfire was sixth and his trainer Andrew Balding said: "He didn't handle the track and he came down the hill on one leg. He might not have stayed, either. He's in the Eclipse and could go there."