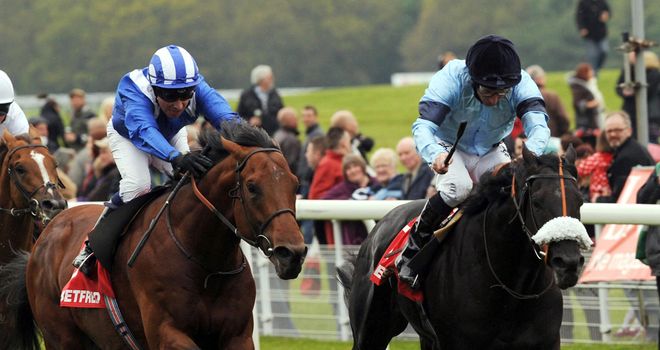 Bonfire: Under serious consideration for Epsom
Bonfire enhanced his Derby prospects with a smooth win in the Betfred Dante Stakes.
Shahrastani, Reference Point, Motivator and Authorized are just four of the horses that have helped make York's 10 furlong contest the leading Derby Trial of the current age and Andrew Balding and the members of the Highclere Syndicate that own the winner will be hoping that their colt can also go on to success in the Investec Derby.
Settling quickly behind the pace set by Ernest Hemingway, who was backed into favouritism, the son of Manduro was always travelling easily and Jimmy Fortune still appeared to have plenty of horse underneath him when taking over inside the final quarter of a mile.
Sustained Challenge
Fencing, who had pulled for his head early, appeared to be travelling equally well and moved up on the inside while Ektihaam - who had given trouble at the start - came from off the pace to launch a sustained challenge on his outside.
However, Bonfire had more than enough firepower to see off both challengers and appeared to have more in the tank than the three and a quarter length winning margin suggested.
Ernest Hemingway was eased right down once his chance had gone while Mandaean, whose price had doubled from the opening shows, took some time to settle but was beaten before those early exertions would have become an issue.
Fortune said: "He travelled very well, he travelled like a good horse. He was probably in front long enough but he held on.
"We went a decent gallop, it was a truly run race. It was a good trial and it was as much as we wanted to do really.
"He's a playful little horse and he likes to do things his own way but he's very genuine."
Bit Uncomfortable
Balding said: "It was very good. I was getting a bit uncomfortable with all the hype because he's not a brilliant work horse and he's done it in flashes this spring, so it was a relief to get him out.
"He behaved like a professional most of the time and he did it very well in the race. Jimmy was very impressed. It was a truly run race and a proper trial.
"The second has had a run already this season and Jimmy felt we were getting a little leg weary inside the final furlong, not through lack of stamina but through lack of race fitness so that is all the more encouraging.
"We've only got just over a fortnight, but as long as he comes out of this well, we've got to give Epsom serious consideration.
"It's key at Epsom to get a position and it looks like he's got the ability to do that. But what do I know I've never had a Derby runner!
"I've had a few runners there though so I know what it takes. I just hope it doesn't take too much out of him."
Good Neighbours
It was another fantastic result for owners Highclere Thoroughbred Racing and racing manager Harry Herbert is dreaming of Classic success now just with Bonfire but also with Oaks contender Vow who is owned by the same syndicate of 20 people.
Herbert said: "It's quite remarkable really that the same owners own these two horses. Each owner paid £14,000 each for the share in each horse and they could never had dreamt they would have ended up with two like these.
"Bonfire was still quite green today but Jimmy was very impressed indeed. He said the way he picked up the Ballydoyle horse was very exciting and he has just got tired at the finish.
"Another remarkable story is that Camelot and Bonfire actually grew up in the same paddock, and now they are going to meet again in the Derby!
"I was very hopeful today as Bonfire had done an exceptional piece of work the other day and I was delighted to see him finish so well as it looks almost certain now that he'll stay the mile and a half.
"The owners are living the dream and it's going to be an exciting two weeks until Epsom."
French Derby
Varian said of Ektihaam: "We're competitors and you're always a bit annoyed when you don't win, but I'm thrilled with how he ran.
"He travelled into the race really well and I'm delighted that he's shown he's up to this level.
"He's a horse with the physique to improve through the year.
"I'll speak to the owner before we make any definite plans but it's nice to be going home knowing we've got a really good one on our hands.
"He's in the French Derby and the other race to consider would be the Group Three over 10 furlongs at Ascot.
"He's not in at Epsom and I think 10 furlongs is as far as he wants at this stage. Just 25 yards from the line the winner was finishing better than we were."
Sky Bet cut the winner to 6-1 from 10-1 for Epsom's showpiece while further shortening the current favourite and stablemate of Ernest Hemingway, Camelot to 4-5 from evens.