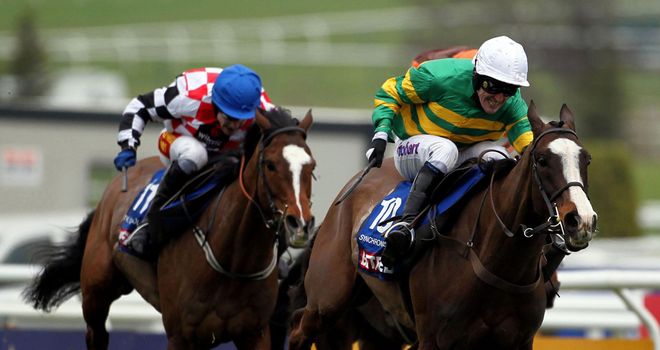 Synchronised driven clear by McCoy on the run-in
The 16-time champion jockey Tony McCoy produced an exceptional ride to win the Betfred Cheltenham Gold Cup on Synchronised (8-1).
The Jonjo O'Neill-trained, JP McManus-owned nine-year-old wasn't travelling well at any stage in the contest but he stayed on best of all to catch the 50-1 outsider The Giant Bolster on the run-in.
Long Run (7-4 favourite) was always well placed under Sam Waley-Cohen but he was outbattled up the hill by the first two.
Two-time champion Kauto Star was pulled up on the first circuit with the crowd breaking out in spontaneous applause during the contest.
McCoy said: "It's great for Jonjo and JP McManus. He's really delivered today.
"He was off the bridle the whole way and when I missed the third-last I thought my chance had gone."
McCoy, who was securing his second Gold Cup victory after Mr Mulligan struck in 1997, added: "He's an amazing horse and it was an amazing performance.
"I'm so pleased to win it for JP as he's been so good to me.
"Jonjo has done an incredible job. I've got a Grand National and a Gold Cup out of the man and I love him to bits.
"Jackdaws Castle looks a closed shop with JP and just a few other owners and I can't understand why he doesn't get more horses."
Swamped
Midnight Chase set out to make all of the running and initiated a strong pace, with Kauto Star and Long Run close up.
There was drama at the second fence when What A Friend, part-owned by Sir Alex Ferguson, fell.
Soon after it became evident Walsh was not happy with Kauto Star and pulled him up.
Time For Rupert got the better of Midnight Chase before four out, but he was soon swamped.
The Giant Bolster then looked like landing a major shock as he took the lead on the turn for home.
Long Run was in the front rank, but Sam Waley-Cohen was hard at work on him and he failed to show the same acceleration that won the race 12 months ago.
Burton Port also tried to close, but it was Synchronised who was delivered to perfection by McCoy as his stamina proved crucial.
Flowered
O'Neill, who was securing his first Gold Cup as a trainer, said: "AP was brilliant on him, he knows him so well. Our big worry was keeping him in the race as, if he makes mistakes, he gets behind.
"A lot of work has gone into him at home so was a great team effort from the yard. He only came right in last 10 days or so and we weren't really confident.
"He flowered in the last few days and it was spot-on timing. It's fantastic to win it as a trainer. It's a big team effort. I knew the one thing he would do was stay - the big problem was keeping him in the race. AP got him into a great rhythm."
David Bridgwater said of runner-up The Giant Bolster: "He was brilliant, but I've always said this is an exceptionally good horse and he should have been about 16-1, not 50s.
"He jumped super, and it was a wonderful race. Hopefully we'll be back here next year and hopefully there'll be some big race to win before then."
Trainer Paul Nicholls said Kauto Star, whose participation in the Gold Cup was in jeopardy following a schooling fall a fortnight ago, had returned from the race unscathed.
He said: "He's absolutely fine.
"Ruby wasn't happy after he'd jumped a couple of fences and we said if he wasn't happy to pull him up, and he's done the right thing.
"There's obviously something tweaking him."