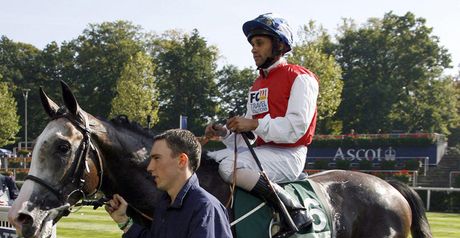 Jukebox Jury: Deauville winner
Mark Johnston's Jukebox Jury, ridden by Neil Callan, won the Darley Prix Kergorlay at Deauville.
The grey made all of the running under Callan, and after coming to the stands side, kicked clear and was well on top at the line.
Johnston revealed the win provided the platform to an ambitious Group One programme for Jukebox Jury.
The Middleham trainer said: "He stayed the trip very well. He dictated the pace, which helped a lot, and he never saw another horse.
"There are heaps of options. We'll be wanting to go the Group One route. Someone has suggested the Prix du Cadran, so that comes into it a bit, but most likely is the Irish St Leger, Canadian International, Hong Kong Vase and the Japan Cup.
"That's the programme we've laid out for him at the moment and has been for some time if he could win this. If all goes well that is what we're likely to do."
Francois Doumen's Kasbah Bliss took second, with Luca Cumani's Manighar narrowly edged out by Andre Fabre's Brigantin for third.
Red Cadeaux, the other British raider, threatened briefly and was just out of the places.