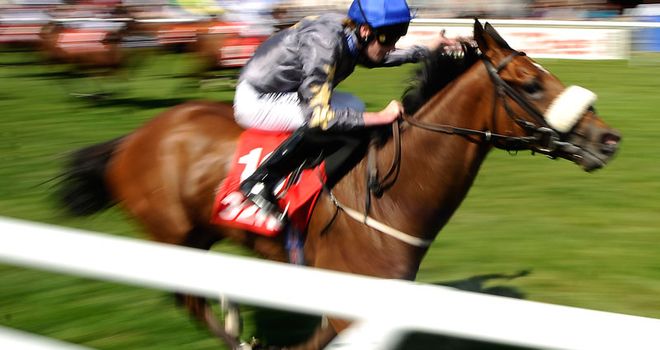 Brae Hill: Bunbury Cup winner
The low drawn Brae Hill stuck to the stand side rail at Newmarket as others headed wider but it was Dr Marwan Koukash's five-year-old that proved a decisive winner of the 32Red Bunbury Cup .
It is not uncommon to see a full field split into two groups but less so to see one horse plough his own furrow and having started in stall two, a decision not to follow his fellow low-drawn horses over towards the centre proved to be a canny one by Barry McHugh.
The well backed Manassas attempted to adopt his customary front running role and from his draw of 20 - he enjoyed the run of the rail but he was unable to put distance between his rivals and himself and he was soon overhauled as they came inside the final furlong.
As those rivals came to challenge the Royal Ascot winner, the eye was drawn to the near side as Brae Hill was making relentless progress and had gone beyond recall.
Excellent Guest stayed on from the middle of the pack to run into second place whilst Fathsta, carrying the first colours of Koukash, held on to third having held every chance. Mr David plugging on for fourth.
Plan
Fahey said: "It wasn't a great draw, but we had a walk of the track this morning and thought if a horse can do it on his own it was this horse.
"If you go over to the far side you can't win. It's grand and worked out well.
"It was the shortest way and had a rail to sit on. I thought a few more might come over. I was a bit surprised we were on our own."
McHugh added: "I thought I'd take the quickest route. "I knew the others were going to go that way (far side) after a furlong. There was no point losing ground by going over to join them. I thought I'd have a bit up my sleeve and stay where I was.
"He's probably better on his own and he settles better."