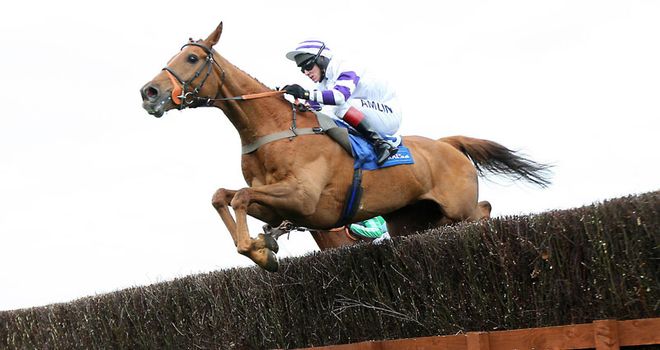 Beshabar: All the way win
Tim Vaughan's Beshabar (15-2) won the Coral Scottish Grand National Handicap Chase at Ayr.
Last-year's winner Merigo (20-1) finished second, staying on all the way to the line, with Always Right (15-2) back in third.
Lothian Falcon (33-1) finished in fourth, whilst favourite Chicago Grey was well-beaten further back.
Vaughan said: "It's like a dream come true, we had our first Grade One winner last week at Aintree (Saint Are) and I had a big hangover then, but after winning the Scottish National, I think I'll have a double one tomorrow!
"People have been saying we've just been training winners over the summer, so I am very grateful to Harry Findlay (part-owner) for sending me this horse that we could go to proper places with.
"Hopefully we'll get a few more that will be able to run in the big Saturday races now.
"Richard Johnson gave him a fantastic ride, I didn't really give him any instructions. I just told Richard we employ him because he's as good as any jockey around.
"There is no doubt that we will aim him at the Aintree Grand National next season and all the plans through the season will be geared towards that."
Johnson added: "He jumped really well and enjoyed himself and I enjoyed myself as well.
"It's great to win this race for the first time (at the 14th attempt). He's very tough and every time Merigo came back at him, he kept pulling out more and more."
Owner Raymond Anderson Green said of the runner-up: "Of course you're always disappointed when you are beaten, but the horse has gone and run the race of his life.
"He hadn't been running too well this season, but Andrew (Parker, trainer) had him in good form and I thought that if he ran to his best, he would go close.
"I wouldn't rule out Aintree next season, but I'm not sure that he is the type of horse for there and I would like to have another crack at this race."
Always Right's trainer John Wade added: "That was a fantastic run. He just caught one of the fences in the straight, or I thought he would have finished second.
"He hasn't turned a hair, he is so laid back. That is it for the season, though."