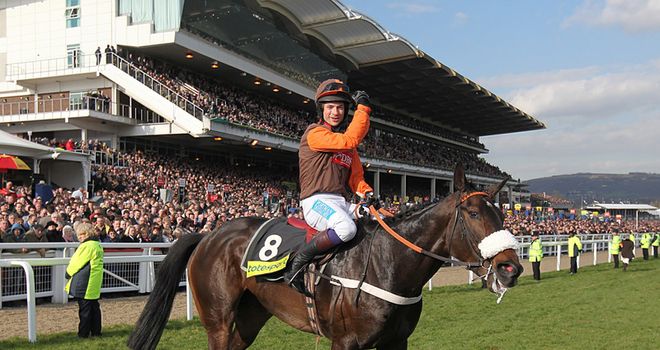 Sam Waley-Cohen celebrates his famous victory on Long Run in the Cheltenham Gold Cup
Long Run (7-2 favourite) beat Denman and Kauto Star to win a fantastic renewal of the totesport Cheltenham Gold Cup.
SKY BET ODDS
Long Run is 5/2 favourite to repeat the trick and win the 2012 Gold Cup.
Bet now.
Amateur rider Sam Waley-Cohen overtook the old guard jumping the last fence aboard the six-year-old and bounded up the hill to record a thrilling seven-length success.
Denman (8-1) was a gallant second with two-time winner Kauto Star (5-1) back in third.
Special
The winning jockey said: "He's a whole lot better than I thought he was. That's a very special feeling and he's a very special horse.
"I want to say thank you to everyone for believing in me and the horse.
"This is beyond my wildest dreams. I didn't think we were going to get there, but he picked up, and I think he still had a bit left.
"When he got there he saw the crowd and he wanted to stop and have a look.
"What a horse he is."
Great
Henderson added of Long Run's seven-length triumph: "It was a great race because all the horses have run great races - there's no disputing it.
"Kauto Star was probably at his best today, but Long Run is a very good young horse.
"Sam gave him a beautiful ride. There was just a moment when I thought he needed a bit of daylight going down the hill, but he was very confident and he was very professional."
Henderson continued: "It's sort of nice it's over, to be honest. It was a great race, that's the thing.
"All credit to Sam, this is not exactly his day job, but he never panicked.
"The big horses were all there and he had to get through them, and he did. It was a wonderful ride.
"This horse is still only six, so there is a lot to look forward to with him yet."
Amazing
Paul Nicholls said of his placed horses, Denman and Kauto Star: "I thought they had it between them at one stage, but Long Run was always going well just behind.
"They've run absolutely amazing races.
"Kauto travelled great and jumped great and we were always going to be more positive on him.
"I always thought Long Run was the best horse in the race but I could not be more proud of my horses."
Proud
Long Run is owned by Robert Waley-Cohen, the young jockey's proud father. Waley-Cohen snr said: "To have a runner in the Gold Cup is an honour, but to have your son riding the winner is a dream.
"He jumped the last really well and I knew they were never going to catch us after that.
"He's a gorgeous young horse."