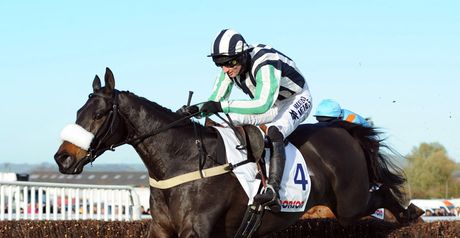 Midnight Chase: Relentless galloper
Midnight Chase ground his rivals ino submission in the Morson Group Handicap Chase.
The in-form eight year old loves it around Cheltenham and he was soon settled into a lovely rhythm up front under Dougie Costello.
His relentless march to glory had a good many of the field under pressure with a circuit to go and by the time he reached two out, the race was his to lose.
He made a mistake at the last but never looked like falling and kept on up the hill for victory by eight lengths from Any Currency.
Junior and Bluesea Cracker completed the frame at a respectable distance from the winner.
Trainer Neil Mulholland said: "We were due to come back here in December, but there's a possibility we might have to go out of handicaps now.
"We were hoping he could improve and he has done.
"I've stood in the same spot in the weighing room for his last three wins now and I like to keep things the same if I can.
"I'm lucky I've got a good jockey on board so I don't have to worry about things too much but I got more of a thrill watching that than I ever did riding.
"We'll definitely be looking to coming back here some time - he loves it at Cheltenham."
Dougie Costello added: "He's a specialist around here - he hits the hill here and finds an extra gear.
"Neil is a serious trainer and has done marvellous with this horse."