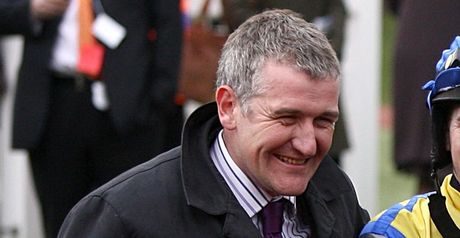 McCain: Exciting prospect
Donald McCain's Wymott won the Maxilead Metals Beginners' Chase at Bangor in the style of a very promising horse.
Facing a strong field that included the likes of Tarablaze, Alfie Sherrin and Silver Kate, the winner was eased down to slam Pearlysteps by four lengths.
Stan James immediately cut the six-year-old to 16-1 from 25s for the RSA Chase at Cheltenham in March.
"I can't say we didn't have an inkling he'd do that, but you never quite now until you go racing," said McCain.
"We didn't go to Cheltenham or Aintree last year because of the horse we think he could be and this is a great step along the road.
"We schooled him over fences last year because he's a bit of a playboy and we couldn't get him to respect hurdles, and it wasn't until we schooled him over fences that he jumped properly.
"From the first day he jumped a poll you knew this was his job.
"I tend not to plan too far ahead to be honest but I know where I'd like to be in the spring. Today was a big step down the road.
"I think I'd like to go over three miles next now we've got that under our belts," he told Racing UK.