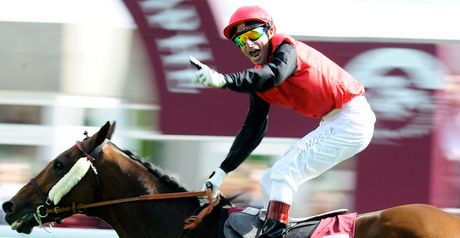 Mosse celebrates Gentoo's victory.
Gentoo finished with a wet sail to land the Qatar Prix Du Cadran at Longchamp under Gerald Mosse.
Alain Lyon's Prix Gladiateur winner was ridden with the utmost confidence at the rear of the field before making stealthy headway in the home straight.
Marcus Tregoning's Askar Tau was the first to commit for home and Kasbah Bliss also travelled menacingly, but neither had any answer to Gentoo's finishing kick and he pulled right away in the closing stages to record an impressive success.
Winter Dream also came from the rear to grab second, with Kasbah Bliss third.
Lyon, securing his first Group One win, said: "He is not a horse who shows you anything in the mornings. We weren't expecting a year ago to be standing here after winning the first race of this day.
"We are a bit surprised, so we hadn't thought of what we would do after this race. We will take him home and see how he is before making a decision."
Kasbah Bliss' trainer Francois Doumen blamed the testing underfoot conditions for his charge's slightly disappointing effort.
"All I can say is ground, ground, ground. It was worse than we expected - the jockey said it was like a potato field," said Doumen.
"Hopefully he will get invited to Hong Kong, he will get his ground there."
Askar Tau was dismounted before he came back to winner's enclosure but Tregoning was able to allay any fears about his well being.
"He's OK, he was just very tired. Apart from that, he ran a very good race," said the trainer.