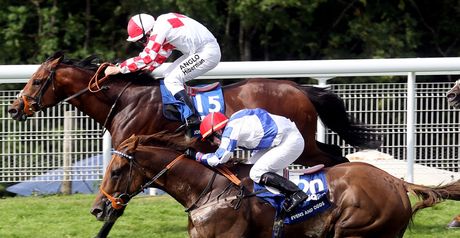 Evens And Odds reels in Johnny Mudball.
Evens And Odds, runner-up to Genki in the Stewards' Cup 12 months ago, avenged that defeat and provided Dandy Nicholls with a third triumph in the race as he swooped to conquer under apprentice Billy Cray in the Bluesq.com-sponsored cavalry charge.
The 20-1 winner of the richest sprint handicap in the calendar put the icing on the cake of another fantastic Goodwood meeting for Nicholls, who had his customary strong quota of three of the 28 runners.
But while Striking Spirit and Sonny Red never looked like troubling the judge, Cray was always in the catbird seat on Evens And Odds as he tracked Prime Exhibit while watching early pacesetter Jonny Mudball like the proverbial hawk.
Jonny Mudball had resisted all challengers inside the distance, but Evens And Odds was in full flight and wore down the leader to score by a neck.
Prohibit was third and Rileyskeepingfaith fourth.
Nicholls was quick to praise 22-year-old Cray, saying of the Bermondsey boy: "I've never had any doubts about Billy. He's always in the right place at the right time, and I'm so pleased for him, for the yard and for the staff.
"I think we all want the type of horses that can win it and I've been very lucky to win it three times, while always having sprinters that can compete at the highest handicap level.
"I was sat next to Roger Charlton this morning and he's no fool. He'd put the equipment back on Genki and I thought if we could find a couple of lengths with him we'd have a great chance of winning it."
Nicholls, who landed the same race on the amazing Soba as a jockey, explained that Evens And Odds has not been straightforward to train.
He went on: "He ran in the Guineas for Kevin Ryan but he weaves in his box and seldom settles down.
"He was a bit anxious in the paddock so we took him back into the pre-parade ring. I think we paid twenty grand for him."
Cray, who started in racing straight from school at 16 and had worked for Alan Berry and Dominic Ffrench Davis, said: "I jumped quickly and followed Prime Exhibit because I knew he was going to make it. I never thought about another horse coming from behind, I just kept going.
"I went to the Racing School straight from school. I watched racing on the telly and loved what I saw. I wanted to be a part of it. I was with Alan Berry for six months and then with Dominic Ffrench Davis.
"He was the one that got me going and advised me to go to a bigger yard."