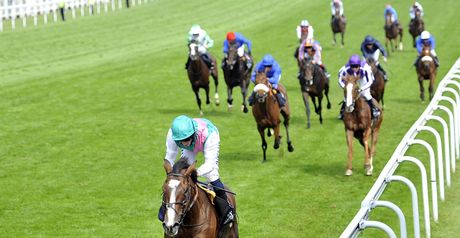 Workforce powers clear to win the Epsom Derby.
Ryan Moore is a master of the understated but even the ice-cool champion jockey was left clearly moved after Workforce thundered to a record-breaking victory in the Investec Derby at Epsom on Saturday.
The 26-year-old has suddenly found Classics coming his way more frequently than the London buses which adorned the inner running rail on the famous Surrey Downs.
Having broken his duck the previous day when Snow Fairy fought her way through traffic to score, Moore was able to sit back and savour the moment aboard Sir Michael Stoute's colt as they powered away for a jaw-dropping seven-length triumph in a race-best time.
At First Sight, the 100-1 outsider, sent a chill through the 100,000 Derby Day crowd on turning for home as he was poised to slip the field, but Moore was alive to his efforts and led over a furlong out.
Workforce was the only one of the 12-strong field to collar the front-runner, with Frankie Dettori's gambled-on mount, Rewilding, finishing a half-length third.
Jan Vermeer, the 9-4 favourite in the absence of stablemate St Nicholas Abbey, came from the rear and was a further four lengths adrift in fourth.
While Kieren Fallon has always been the undisputed king of Epsom, Moore is emerging as a serious rival for that crown.
Although he batted away Snow Fairy's Oaks win as merely another race, there was no hiding the inner delight as he climbed aboard the winner's podium, watched proudly by his father Gary, girlfriend Michelle, and son Toby.
Moore said: "It is great to win this race as it is important to me.
"The Derby is the most important race for me and the reception I got from my friends and family was great.
"I am just lucky things have fallen right this weekend and this is a really special day. I'll remember it, that is for sure."
The Prince Khalid Abdullah-owned Workforce was having only his third career start, with the Goodwood maiden winner having failed to fire properly when second in the Dante at York.
Moore, whose previous best in the Derby from four rides came when second on Stoute's Tartan Bearer in 2008, continued: "He travelled very smoothly and when the gap opened up he really quickened.
"He was in front sooner than I wanted for a horse having just his third run of his life and I had to keep him up to his work.
"He has just improved from the Dante. He is a very laid-back horse and he needed the Dante to wake him up.
"He has quickened like a great horse and it is really important for me to win this.
"Time will tell how good he is, but today he put in a great performance."
Stoute had to a abandon plans for a 2000 Guineas bid after Workforce was slow to come to hand in the spring, and elected instead for a racecourse at gallop at Lingfield last week.
And his patient approach paid handsome dividends as Workforce provided him with a fifth Derby success following on from Shergar (1981), Shahrastani (1986), Kris Kin (2003) and North Light (2004).
The son of King's Best also demolished the statistic of no horse beaten in the Dante winning the Derby - with Stoute describing it as "rubbish" - while he also shaved a second off Lammtarra's course record of 2mins 32.3secs set in 1995.
Stoute said: "Winning the Derby seems to get sweeter and sweeter and that was a very, very exhilarating display.
"It is one of the greatest feelings and one of the greatest races, if not the best.
"I am thrilled - they do truly get better and I am particularly delighted for Ryan to win his first Derby.
"He is a jockey who has a lot of talent. He has a very good racing brain, has ambition and is a joy to be around.
"I am also delighted for Juddmonte, Prince Khalid and Teddy Grimthorpe."
He added: "I wanted to give him two races before the Derby and the one race I did give him didn't work out, but that doesn't matter now.
"I was under no pressure to run and he wouldn't have done if Ryan and I didn't think he had a good chance.
"We will take him home, chill him out, have a chat and see what we do. The Irish Derby is the obvious place to go but let's just see how he comes out of it."
Grimthorpe, Abdullah's racing manager, added: "That is the second time we have won the Derby and it is 17 years now since Commander In Chief won.
"I always wait for Sir Michael to tell me about plans, but you don't have to be a clairvoyant to see the Irish Derby may be on the cards."
Workforce is also the new 4-1 favourite with Ladbrokes for the Qatar Prix de l'Arc de Triomphe on the first Sunday in October.