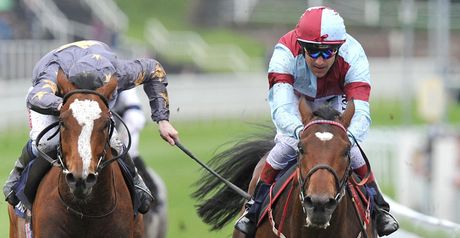 Ted Spread (right) - rallied gamely in the Vase.
Ted Spread (8-1) rallied in the closing stages to hold Icon Dream in the MBNA Chester Vase.
Jamie Spencer brought Icon Dream with what looked like a well-timed run on the outside, but the Mark Tompkins-trained colt found extra for Darryll Holland.
The winning jockey made a decisive move four furlongs out when he forced his way to join the long-time leader Chink Of Light and Critical Moment.
That tactic changed the complexion of the race with Ted Spread showing plenty of grit and determination to win by a head.
Holland said: "They just levelled off and I thought I had to be positive and make it into a real race.
"He stays a mile and a half well so we used that to his liking. He tries real hard and that's the main thing here.
"You can be unlucky round here and he's handled the track quite well really for his size.
"It had been a stop-start gallop. Because he stays well I committed a fair way out on him."
Tompkins said: "Darryll had to wind him up, but he stayed on well on the ground. We instilled in Darryll that he would stay.
"It's the first time he's really been asked to go and do something and it's nice to have another nice horse.
"He's always done everything right. He's a home-bred, I got the dam (Highbrook) from a claimer at Carlisle, she's bred some nice horses over the years but died last year.
"He's in the Derby and I suppose we'll go there if the ground is right, but he wouldn't it too firm and longer term we'll go down the St Leger route as he should stay that far.
"That was a good experience for him around the turns, he had to battle a bit and it will have done him good.
"I like to send my Leger horses to the Lingfield Derby trial, but we came here because of the ground."
David Wachman, trainer of the runner-up, said: "There are no excuses and he's finished off his race very well.
"It's only his third time away from home and he doesn't know a lot.
"He got to the front and probably thought he had done his job. He has a lot of options and we'll see where Dr Koukash (owner) would like to go."