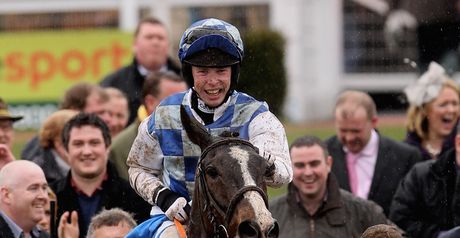 Berties Dream - landed the Albert Bartlett.
In a Cheltenham Festival week sure to be remembered with fondness by the nation's bookmakers, there will have been fewer results more difficult to predict than the triumph of Berties Dream in the Albert Bartlett Novices' Hurdle on Friday.
A first runner at the meeting for Irishman Paul Gilligan, the 33-1 shot led home Najaf (25-1) and 66-1 longshot Kennel Hill in a tricast paying out just under £42,000, with 100-30 favourite Tell Massini a major blowout and eventually pulled up.
Outsider he may have been, but doubtless plenty of members of the Dublin-based crowd of Berties Dream's owners, the Half A Keg Syndicate, were in line to collect.
Andrew Lynch, who won the Arkle earlier in the week, is clearly in electric form but had it all to do on Berties Dream and was rowing along from some way out.
Three miles of rain-softened ground found many of the field out and it developed into a real tussle with Henry Oliver deciding to be extremely positive on Restless Harry, who was joined by Najaf and Berties Dream but crashed through the last.
Restless Harry ended up unseating David Casey from Fionnegas.
It was up to Berties Dream to press on and he took six lengths out of Najaf on the run to the line, with Kennel Hill able to sweep up the remaining spoils.
"I'm speechless. We really did think he would run well but Cheltenham is Cheltenham and you don't come here thinking you are going to win," said Gilligan.
"I did fancy him because the horses are flying at home and we were unlucky not to have a double last Sunday. Things had kicked into gear and to have a winner here - money can't buy it.
"People totally ignored his form as he ran a great race against War Of Attrition last time.
"He never runs a bad race and ran a super race here in November when third to Tell Massini and was just behind Reve de Sivola, who ran a good race here earlier this week.
"AP McCoy rode him that day and he felt that within another 50 yards he would have been second.
"He'll go over fences next season, and I'd say he'll be put away now."
Gilligan, 36, who has around 25 horses at his stables at Athenry in Galway, is becoming familiar to British racegoers.
He continued: "I used to ride point-to-pointers but decided to give training a go eight or nine years ago.
"We had won four over here this season and a couple at the Galway Festival but this is my best ever."
The gelding is named after the late Bertie Broderick, father of the head of the syndicate, Conor, who dreamed his son would own a horse one day.
Lynch added: "The rain came just in time for him, he just keeps on galloping and I'm so pleased for Paul as he stuck by me a couple of years ago when things weren't so good."
Paul Nicholls, who had major drama to come in the Gold Cup, could be encouraged by Najaf.
"I was delighted with that as he will be going chasing in the autumn," he said.
"That's what he was bought for. He won't run again this season."
Keith Goldsworthy had snapped up some of the available 200-1 about his horse Kennel Hill.
The Welshman grinned: "His reputation said 'be careful' but the price was ridiculous.
"But if it was all about favourites, we wouldn't bother would we? If we could find a little maiden now that may put his confidence up."
Of Restless Harry, Oliver said: "The horse on my left (the winner) murdered me approaching the final flight and I had nowhere to go."