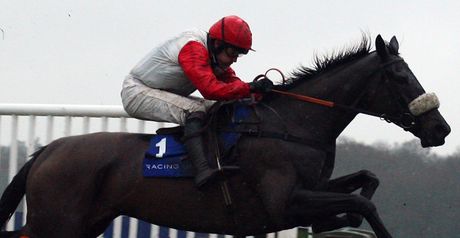 Big Buck's - took Long Walk glory at Newbury.
Big Buck's saw off what might have been his only remaining challengers in the three-mile section with a determined effort in the rescheduled Racing UK On Virgin 536 Long Walk Hurdle at Newbury.
The Grade One event was due to be held at Ascot a week and a half ago before it was lost to the frost but 30-odd miles further west in Berkshire the field were welcomed by rain-saturated ground.
It was billed as a clash between 2009 Ladbrokes World Hurdle winner Big Buck's and Diamond Harry and as the field crawled around their first circuit, the young pretender and Timmy Murphy stalked the 1-2 favourite, a respectable distance behind the leader Fair Along.
Ruby Walsh had to get after Big Buck's at the top of the straight and he looked briefly in some danger, but the gelding did not waver in his endeavour and drew three and a half lengths clear after leading two out.
Diamond Harry (11-4) drifted towards the right rail when challenging, certainly losing ground, and was beaten for second by Karabak.
Nick Williams may now send Diamond Harry novice chasing, so Big Buck's was cut to 4-6 from 11-10 by the sponsors for Cheltenham.
Winning trainer Paul Nicholls said: "He looks at the moment bomb-proof in that division, doesn't he?
"He'd go for the Cleeve now, but I wouldn't run him if it was really bad ground, he'd go straight to Cheltenham.
"I'm not going to jeopardise the World Hurdle for running around in bad ground.
"I had to run him in the Cleeve last year just to see if he was progressing. It's easy to leave races behind at the end of January so we'll keep an open mind."
Nicholls believed there was more to Big Buck's victory than met the eye.
He continued: "He's not always the most straightforward and I was worried it was going to turn into a tactical nightmare, but he just keeps so much in the locker and just does enough.
"He looks rock-solid after today and I'm not sure he really enjoyed the ground. I'm sure he likes to bounce off better ground.
"From the day he walked into the ground I just loved him as he had class and presence - we obviously thought he was going to make a high-class chaser.
"As it's turned out it's the best thing that's happened, him going back over hurdles, as the other two lads (Kauto Star and Denman) are doing really well."
Walsh added: "He's a very, very good horse - he's a great stayer.
"He handles the ground, I wouldn't say he loved it but not too many horses do.
"He only does enough, but I guess that's what you want with three-mile hurdlers.
"He was very deliberate over fences and took him a long time to get from A to B.
"As soon as he switched back to hurdles he turned them inside out."
Alan King was heartened by Karabak and said: "That was a much better run and he's run much closer to his Cheltenham form of last spring. He'd want better ground too.
"I'll have to have a chat to (owner) JP McManus but I'm inclined to go straight to Cheltenham."
Diamond Harry remains no less an intriguing proposition, with Williams reporting: "The official handicapper has got it spot-on and he's run to form. He was beaten a similar distance by Karabak over hurdles at Cheltenham.
"We are going to have to consider the RSA Chase route now - he's been over fences at home and schools well.
"We did a similar thing with Cornas last year, but nothing is set in stone."