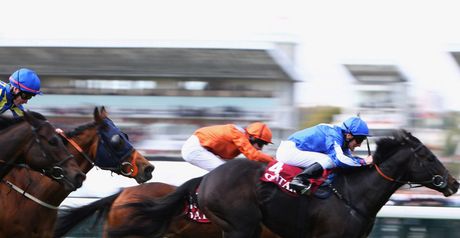 Total Gallery surges to Abbaye glory.
Total Gallery emulated his sire Namid as he powered to victory under Johnny Murtagh in the Qatar Prix de l'Abbaye at Longchamp on Sunday.
The John Oxx-trained Namid won the five-furlong Group One in 2000 for Murtagh, and the rider teamed up with Stan Moore this time to see Total Gallery add to the family laurels.
Sent off a 10-1 shot on the British industry prices, Murtagh always had his mount among the front runners as Equiano set the early pace, with Benbaun and Strike Up The Band also prominent.
Murtagh was sitting just on their heels aboard Total Gallery and began to make his move some way out as Equiano started to toil.
He looked set for a real battle in the final furlong as the Jeremy Noseda-trained favourite Fleeting Spirit really started to motor, but she could not find the necessary extra, leaving Total Gallery to claim a landmark neck success for Moore.
War Artist finished fast and late down the outside to just shade third place by a head from Benbaun and ensure a British clean sweep of the places.
Moore said: "He's a top-notch horse and what he did earlier in the year was just a bonus.
"He's improved and improved this year, but we thought the ground might have been too quick for him.
"He's proved there that he's a pretty awesome horse.
"Johnny said that he's the best sprinter he's ridden since his father (Namid).
"Johnny said coming in that he'll be an awesome horse next year.
"We'll have to do a gameplan for him next year, but that'll probably be it for him this season. He's a horse who has the world as his oyster.
"Earlier on in the season, it is hard to beat the older horses, but it gets easier at this time of year.
"Johnny said he hit the front way too soon, and that the horse was pulling up in front, but responded well when the others came to him.
"He is a horse who is growing up and will be a force to be reckoned with next year.
"He needs to have a rest now but there is a sprint in Dubai that could come into the reckoning in the spring."
Murtagh added: "He won well and he's improving as a sprinter.
"I think he's improved a lot since the last time I rode him - he's more professional and a lot faster.
"He's naturally quick, and got in front too soon, but managed to change his legs.
"When the other horses came at him, thankfully they got him home.
"I won a nice handicap on him earlier in the season. He's improved all year and is still only a three-year-old.
"I hit the front too soon, but he really stuck his neck out and is a very nice prospect."
Of Fleeting Spirit, dejected part-owner Paul Roy said: "It was a nightmare. I didn't ever think she would make the ground up - she had too much to do - but there we go.
"We will probably keep her in training and I would like to take the boys on in the Breeders' Cup, which will be on Polytrack."
James Eustace said of War Artist: "It was a great run but perhaps a five-furlong race like that, run on a car park, is just a bit much.
"He probably wants six furlongs now."