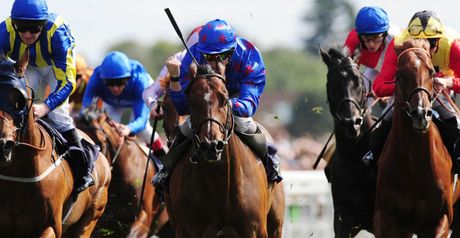 Borderlescott - brilliant victory.
Robin Bastiman brought the Coolmore Nunthorpe Stakes home to Yorkshire as he saddled Borderlescott to successive wins in the Group One sprint on the final day of the Ebor meeting.
The Wetherby trainer was rewarded for 40 years hard graft last summer when Borderlescott provided his first success at the top level - but unfortunately for him, the race took place 160 miles south at Newmarket.
The weather which caused last year's abandonment at York favoured Bastiman this time though, and provided the rattling quick ground which suits his seven-year-old so well.
The 9-1 chance also got the lightning-fast pace which he craves and came with his challenge entering the final furlong under Neil Callan to edge ahead of front-running Benbaun and deny his fellow Yorkshire rival by a neck.
Radiohead, the sole juvenile in the 16-strong field, excelled himself by finishing strongly to be a length and a quarter down in third.
For 59-year-old Bastiman, the Nunthorpe was just his second Group One win, although he has failed to live up to his promise of last year as yet.
Bastiman had said he would hand over the training operation to his daughter Rebecca when he struck at Group One level, but that looks likely to happen in the new year.
He said: "This is my home ground and where I want to win races.
"I only train eight miles from here and this is the Ascot of the north.
"Racing has such a following in Yorkshire and there is even a girl who sends him Polos every month.
"He is a hard horse to get fit and gets better with every run of the season.
"He only comes right at this time of year, and the fast pace and fast ground suited him."
Pat Cosgrave had partnered Borderlescott on his previous 10 starts, but was replaced at the behest of the trainer for the Nunthorpe.
Bastiman explained: "There are three things you can do to freshen up an older sprinter. You can try a visor, try blinkers or try a new pair of hands.
"I was my decision to give the ride to Neil, and it is no reflection on Pat.
"He will be sick today and cursing me, but I am not saying that he won't ride him again.
"This horse is a true champion and we'll now put him away for the Prix de l'Abbaye. He was invited to Hong Kong last year but the owner didn't fancy it. I might fancy four days in Hong Kong this year though, as I am getting long in the tooth."
Callan added: "It is fantastic and Robin only said to me three weeks ago that he was thinking of changing the hands on the horse.
"It's the most amazing feeling. I'm having a good year and I've had five Group One winners now and these are amazing feelings."
Benbaun has enjoyed a great first season with Kevin Ryan, who allowed his stable jockey to partner Borderlescott after a deterioration of ground resulted in a late switch.
Ryan explained: "It is ironic that Neil rode the winner, but the thing was Benbaun was going to run in Ireland and once it was decided he would come here, there was no way I was going to mess Neil about and ask him to get off the winner."
Of Benbaun, Ryan added: "He has run a blinder. He has not had a lot of racing and has been so well looked after he is doing us proud and it is a credit to the horse.
"The plan now is to go back to France for the Prix de l'Abbaye. He loves it over there and I think he will go there with a big chance."
Radiohead was bidding to follow Kingsgate Native's example of two years ago by winning the five-furlong dash as a juvenile, and he was far from disgraced with his third-place finish.
Trainer Brian Meehan said: "I'm really pleased with that. It was well worth having a shot.
"It was only his fourth run and it's all about progression. He wants six furlongs so I'd say he'll go the Middle Park Stakes now."
Dandy Nicholls, trainer of fourth home Tax Free, said: "I'm delighted for Robin as no one can say last year was a fluke now.
"Our horse ran his race and we'll be gearing him towards running in the Prix de l'Abbaye."