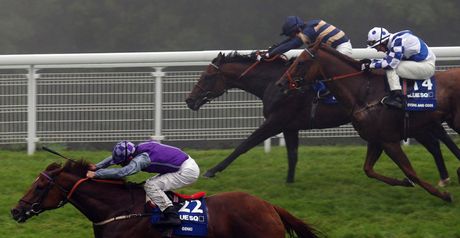 Genki storms clear in the Stewards' Cup.
Roger Charlton became the first trainer in more than half a century to saddle three winners of the Bluesquare.com Stewards' Cup as Genki forged through the driving rain in the Glorious Goodwood handicap.
When Charlton took over from the late Jeremy Tree at historic Beckhampton he spent his first years dealing with Classic contenders and although he would love to have a few more like 1990 Derby winner Quest For Fame, he has gradually become a more potent force with sprinters.
The abysmal conditions meant he could not see much of Steve Drowne during the race, but by the time the field appeared Genki had joined Harmonic Way (1999) and Patavellian (2003) on the roll of honour.
The last time such a feat was achieved was by Fred Armstrong in the early 1950s.
"I watched the race on the screen but really couldn't see much, or see his colours," admitted Charlton.
"Normally I'm very nervous but I was quite relaxed as I didn't even see them until the last 50 yards.
"He was staying on when the fast horses were dropping away."
Looking back, he added: "It is satisfying as he's had a lot of problems. I really fancied him in the Wokingham at Royal Ascot, but the ground was too loose and he disappointed there.
"He then ran a great race at Windsor from a bad draw before I took him back to Ascot last weekend for the International. He didn't break at all well but was fourth. I spent two days last week trying to get him to jump away from the stalls.
"It's not necessarily my style to run them twice in a week, but I ran him at Ascot because I feel he needs seven furlongs and I think you do to win this race.
"You've got to go where the money is. There was a big race last week and one again this week."
The 14-1-priced Genki broke much better from stall 10 and while it was impossible to see how he was faring in the mist, Drowne revealed he was some way adrift of the pace on the far side, while the eventual fourth and 15-2 favourite Markab was showing prominently alone in the centre.
Inside the final furlong Genki was finishing faster than anything else and won by a neat length from Evens And Odds (33-1) and Knot In Wood (10-1).
Drowne explained: "I was well behind at halfway. I had the ones on my side covered but when I got to the front on my side the others started to come back to me, he has picked them off.
"Today he was sharp out but we must have been 10 to 15 lengths behind those on the far side at halfway. He has done well to pick them up."
Considering future plans, Charlton added: "It would be nice at some stage to step him up in grade to Listed or Group races."
Evens And Odds' trainer, the mob-handed Dandy Nicholls, said: "I think it will be the Ayr Gold Cup next for him.
"The ground changed and that wouldn't have helped some of them. They are running well but we are hitting the crossbar."
Trainer Richard Fahey said of Knot In Wood, drawn 11: "I would say that they went too fast on the far side but that is a massive effort off top weight in the Stewards' Cup.
"There is the Taby Sprint in Sweden next month which I am keen to go for."