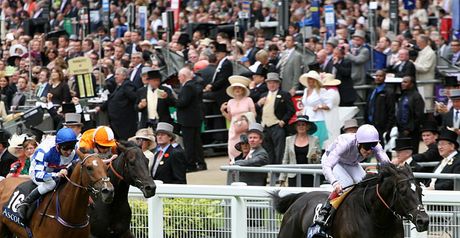 Forgotten Voice lands a huge gamble.
Forgotten Voice lived up to his billing as a Group horse in the making by strolling right away with the Royal Hunt Cup.
The predictable sob-stories from the bookmakers had been bandied about even before the 4-1 favourite set foot in the stalls and were magnified after a truly impressive two-and-a-quarter-length cakewalk.
Still unbeaten, Forgotten Voice has been handled with kid gloves by Jeremy Noseda, who had sown the seeds of the idea to land one of the biggest Royal Ascot betting heats many months ago.
Last year's even hotter favourite Bankable was unable to justify his odds in this brutal event, but the in-form Johnny Murtagh was always in full control and had it all wrapped up with a furlong to run.
Incredibly, it was Forgotten Voice's first start on grass after three simple Polytrack successes.
"We liked him as a two-year-old and he won at the backend of 2007 but unfortunately he got injured in March last year," said Noseda.
"My right-hand man saw a little problem with his leg and thank goodness he stopped him at just the right time.
"We hatched this plan on a plane going to Keeneland last September, realised that he was possibly a very well-handicapped horse and thought he could win the Hunt Cup.
"My idea was to be rated 95 and we arrived here on 101 after being a bit too impressive. He's not had much racing, he's been a bit novicey but is improving mentally now.
"It's not often plans you have in your mind come to fruition but this has. It might be the last time in a handicap, I don't know.
"I was thinking of the John Smith's Cup after this but Johnny tells me to forget that and he's normally a good man to listen to."
Murtagh was in no doubt about the colt's quality, adding: "When I took him down to the start he didn't feel like any handicapper I have ridden in the last 20 years!
"He's a big, strong galloper and I was very confident.
"I was travelling well towards the inside and saw Philip Robinson (on Dunn'o) just clipping off the rail a bit. Before he had chance to straighten him I made sure I had a nice run.
"He's an uncomplicated horse, he was hot favourite today and gave everybody a good run for their money. I wanted to see how good he was."
Forgotten Voice carries the colours of the British Horseracing Authority chairman Paul Roy, who said: "There is always a plan for all of our horses - meticulous planning, and attention to detail. I think that's what makes Jeremy and the team so good."
Not everyone was left happy though. Three horses - Docofthebay, Bencoolen and Roaring Forte - were withdrawn for being unruly.
Trainer of the last-named, William Haggas, was particularly upset.
"Months and months of preparation have gone out of the window and it's ruined the race as the second-favourite is out and there is a huge Rule 4," he said.
"They withdrew him, why? I know he sat down a bit (in the stalls) but they wouldn't let him back in.
"It's such a shame as to cap it all his owner had flown over from Malaysia to watch him run."
Coming in second was Huzzah, trained by Barry Hills, whose son and assistant Charlie said: "We tried different tactics, dropping him in and riding a race on him and it seemed to work well."