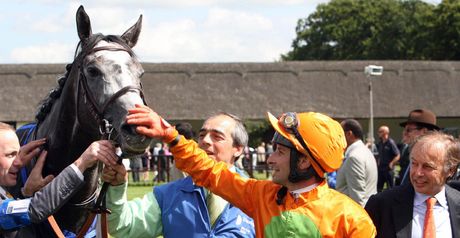 Marchand D'Or - won the Abbaye.
Freddie Head had the last laugh at Longchamp on Sunday as Marchand D'Or cut through near darkness to land the rescheduled Prix de l'Abbaye.
The Frenchman had been one of those most angered by farcical scenes during the first attempt to stage the race in the early afternoon.
When Fleeting Spirit's stall failed to open, some of the field neglected to notice the signal of the false start, most notably Hungarian raider Overdose, who sprinted right to the line only to have his moment of glory cruelly taken away.
Davy Bonilla on Marchand D'Or spotted the flag and eased the grey home with Head believing the Group One should be run again straight away.
Instead it was held in the dusk at the end of the card with Overdose, Desert Lord and Only Answer taken out having exerted themselves too much to try again.
Marchand D'Or, already a triple winner of the Prix Maurice de Gheest and hero of the July Cup, was able to add a five-furlong Group One to his CV and did it in style.
It was a surreal scene with the horses scrubbed down to recommence battle at almost seven o'clock in the evening with a few jockeys looking like they would rather not still be there.
Not Head, who has now won eight top-level victories through the likes of Tamayuz, Goldikova and his earlier Arc Day scorer Naaqoos.
"I have never ridden a horse as fast - he is quite exceptional. You can compare him to the really great British sprinters of the past like Dayjur and he has been able to prove himself from between five and seven furlongs," said the former top jockey.
"We will look at running in Hong Kong now, as long as he is OK."
Beaten a tidy length and a half was Bryan Smart's Moorhouse Lad, who attempted to make all the running but had no more to offer, while Nunthorpe winner Borderlescott ran yet another fine race to finish third.
Jim Crowley, who rode Moorhouse Lad, said: "Having the race called off earlier didn't help him as he's like a time bomb waiting to go off.
"It took a bit of buzz out of him but it was still a great run."
And Robin Bastiman, trainer of Borderlescott, said: "It (false start) might have taken a bit out of him but it was still a level playing field for most of them and there are no real excuses.
"I think that was probably his last run of the season as I'm not sure we want to go to Hong Kong."
The original race brought back memories of Esha Ness winning the void Grand National in 1993 as the jockeys gradually realised what was happening.
Most hurt was Sandor Ribarszki, trainer of Overdose.
He rued: "I am very, very unhappy - we have come 1700km for nothing."
Darryll Holland, on board Kevin Ryan's Desert Lord to chase Overdose home, reported at the time: "There was so much confusion down at the start, they took an age to load them up.
"Nobody knew if it was a false start or not and when I saw horses coming round me I just thought I'd better keep going.
"I couldn't stop my lad anyway, I was a passenger, when those sprinters get rolling there is no stopping them."