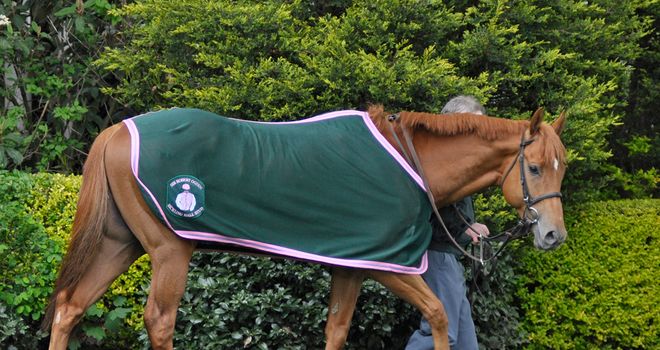 Baccarat: Bids to bounce back from defeat in Ayr Gold Cup
Richard Fahey is hoping Baccarat can supply him with a third victory in the last six years in Saturday's Coral Sprint Trophy at York.
The Sir Robert Ogden-owned four-year-old landed the Great St Wilfrid at Ripon earlier this season but could manage only fifth when well fancied for the Ayr Gold Cup last month.
It is no secret that Fahey expected him to go much closer that day and as he is still unexposed, this will only be the 10th start of his career, connections are hoping to see him bounce back to winning ways.
"I think a combination of factors stopped him wining at Ayr," said Ogden's racing manager Barry Simpson.
"He wasn't drawn on the right side, the pace was all away from him, and I don't think he ran as well as we all expected him to. He ran OK, but not to the best of his ability as we think he's a very talented horse.
"Obviously, all the races he runs in are very competitive - handicap sprints are - and with speed horses you can run a race 10 times and get 10 different winners.
"We expect a good run. It will be his last run of the season and it should tell us where we go next year with him."
One horse who certainly is not unexposed is the 11-year-old dual Nunthorpe winner Borderlescott, who has returned to action this year following a short retirement. He has been far from disgraced in better races than this and has the assistance of Kieren Fallon in the saddle.
"He seems really well, although we wouldn't want to see too much rain," said trainer Robin Bastiman.
"He's happy and his work has been good. His best form is over five (furlongs) but a flat, sharp six at York should be fine. Kieren Fallon rides - he has won on him before.
"He's still got the ability to run well in a race like this. It would be great if he could win. It's our local track, just up the road, and a great place to have winners."
The one Irish-trained runner in the field is Andrew Slattery's An Saighdur, placed in the Ayr Silver Cup for the last two years on his only other previous visits to Britain.
"He should have a leading chance, especially as my men already at the track tell me there's a nice bit of moisture in the ground," said Slattery.
"He's doesn't have to have it soft but he just can't really go on good to firm. We run him over five, six and seven furlongs but I think his best trip is six and a half. Over five he's flat out and a stiff seven can just catch him out.
"For the last two years Ayr has been his aim and he's been a little unlucky both times. Declan McDonogh rides. He's won on him three times and should be full of confidence after winning a Group One on Maarek last week."
Hugo Palmer has booked Chris Hayes for Khubala and is hoping for better luck than when the pair last teamed up.
"Chris has ridden for me once before and he was beaten a short-head on Tipping Over in a sales race at Fairyhouse," said Palmer.
"He's had a fantastic season and I think he's going to be a superstar. I think Khubala saw too much daylight at Ayr, and the ground was a bit too soft. He's in very good form at home and he's threatened to win one of these big handicaps all season.
"Whatever happens, this will be his last run as a colt as I think gelding him will bring about even more improvement next season."
Mick Easterby will be hoping to have one final winner at his local track before he retires with Ayr Silver Cup winner Ancient Cross.
Part-owner Ritchie Fiddes said; "Mick loves York so it would be great to send him off with one last big win.
"It was lovely to win the Silver Cup but unfortunately none of us could be there, so it was great for Mick to lift it. When this horse won the Gosforth Park Cup two years ago, people said he couldn't win off 95, well he's nine now and won off 97 last time.
"That was his first win over six and he seems to like sticky ground and we've left the cheek pieces on. This horse cost not very much and he's responsible for getting me into racing and I've definitely caught the bug. I think we'll keep him going next year."