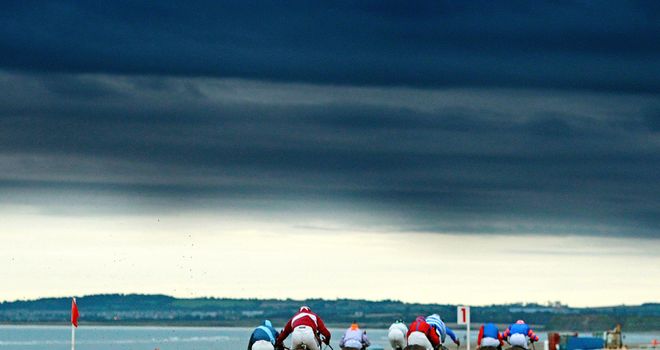 Laytown: Race on Tuesday
George Baker break new ground yet again with his first runner on the beach at Laytown on Tuesday.
The Manton trainer has already successfully targeted such unorthodox outposts as Jersey and St Moritz and is looking forward to running Dana's Present in the opening Tote Mobile Betting Handicap at the annual meeting on sand 30 miles north of Dublin.
"I've seen Laytown on the TV and on photographs and it's always one that's fascinated me," said Baker.
"I thought we'd take Dana's Present. He could run around in England for two and a half grand and we're coming out her for an eight grand race with more than five grand to the winner.
"If it works and it's all good fun we'll bring a few more next year and some owners. It's a bit of an expedition to see where we are.
"It's got to be fun and if you've got the right horses have a go. We've spent most of this year on the road and it's worked out very well for us, starting off in St Moritz, then the Channel Islands and Ostend and Madrid.
"It's been fun and luckily we've got the owners. You need those with the imagination to say yes otherwise you don't have a chance with these ideas. Luckily we have owners who are running with the game at the moment.
"Dana's Present is in good form, he needs fast ground and the beach out there apparently rides fast. Ground wise I think he'll take to it.
"You need a horse with a good temperament. I don't know if he'll take to it but I've had this before with horses we took to St Moritz and Jersey and it worked out. At least we're giving it a go."
There is a second British challenger in the same race as Amy Weaver, who has done well with her runners in America, sends over Emkanaat.