A man for all seasons
Simon Veness witnesses the frenzy surrounding Minnesota running back Adrian Peterson.
Last Updated: 28/12/12 5:32pm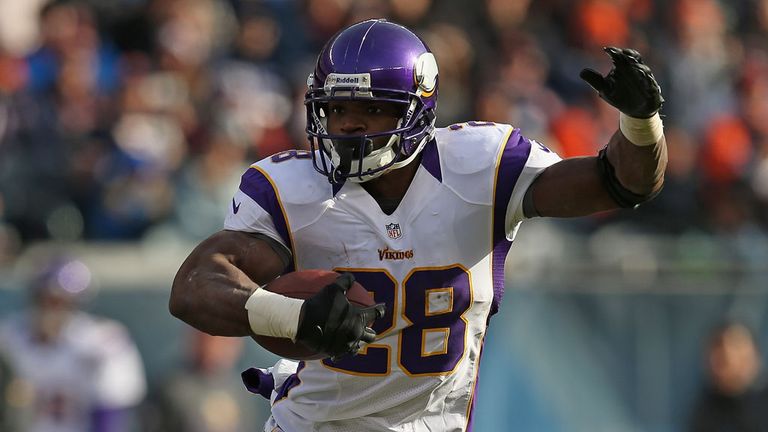 The final week of the season is often an anti-climax for many. Teams already in the post-season picture can rest key starters; others with no hope are merely playing out the string; and still others know there will be new coaches and/or general managers in 2013.
This year, in the former category we have the likes of Atlanta, Baltimore, Indianapolis and Cincinnati. The 'Who cares' brigade include Detroit, Tampa Bay, St Louis and Miami, while the 'Who knows' selection numbers at least 11, and could include Chicago and Dallas, depending on how their Week 17 develops.
In terms of end-of-season intrigue we are also blessed to have the New York Jets, whose laughable stumblings through the latter half of the campaign just get more and more bizarre, with a comical quarterback carousel that seems to have no basis in reality and a command structure that would need to improve several notches just to reach shambolic.
We are also fortunate to have as many as 11 teams still playing for urgent play-off reasons, culminating in the big Dallas-Washington showdown on Sunday night, when the Cowboys will be trying desperately to avoid a three-and-out scenario of losing a third make-or-break finale in the past five seasons (and to each of their NFC East rivals in turn).
Some of those issues are largely peripheral ones, as the fate of the likes of the Bears and Giants is out of their hands if other results do not go their way. Lovie Smith and Tom Coughlin still need to coach as if their very working lives depend on it (which may not be far from the truth in Smith's case, as a team that was 7-1 at the half-way point has all but collapsed down the stretch), but a Minnesota win at home to Green Bay would make their efforts irrelevant.
Other issues are fairly key to how the post-season will shape up, as much store is still set by the Holy Grail of a first-week bye - even though recent history in the form of the Packers and Giants suggest it is better to be in-form and playing in the Wild Card round.
Whether Green Bay can hold off San Francisco for the NFC's No 2 seed ensures the Vikings will have to work for every point they get against the Packers, while Houston, Denver and New England are involved in a three-way scrap for the AFC's top two rankings.
The Texans have suddenly looked vulnerable in recent weeks, while the Broncos are on cruise-control and no-one ever writes off a Bill Belichick team.
Fanatical following
But there remains one other situation that has gathered a growing bandwagon of interest that now borders on the fanatical, and that centres on Minnesota running back Adrian Peterson.
Just to start with, the powerhouse 27-year-old is locked in a fascinating battle for Comeback Player of the Year with Peyton Manning, both of whom would have walked away with the award in any other year. The fact their powers of abundant recuperation have collided in 2012 has made it a cause célèbre for several pundits over here, with the resultant media argument normally reserved for the MVP debate.
But just to top off a season of extremes - the records have come thick and fast in the past seven days, including Calvin Johnson's stellar achievement in topping Jerry Rice's single-season pass-catching mark, Andrew Luck's rookie season passing record and Redskins kicker Kai Forbath landing 17 successive field goals, another league best, plus RGIII racking up all kinds of improbable feats seemingly every week - we now have Peterson v Dickerson for the all-time rushing record.
Back in 1984, the Los Angeles Rams star rampaged to an impressive 2,105-yard single-season total, a mark that eclipsed the previous best of OJ Simpson, set in 1973, by more than 100 yards.
Peterson is actually still 208 yards short of Dickerson's record, which would usually be deemed a bridge too far in one-game terms. But the sheer fact there is so much focus on this one potential individual achievement tells you everything you need to know about the player nicknamed "All Day" in terms of his commitment, effort, ability - and sheer power of will, after the kind of injury that often sidelines players for 18 months or more, or even curtails sporting careers altogether.
This time last year, Peterson was fresh out of surgery on his left knee to repair the anterior cruciate and medial collateral ligaments, the dreaded ACL damage that runners - and running backs - most fear. The general recovery time is reckoned to be 12-14 months, which means the Vikings ace should only just be returning to action.
Instead, he has already racked up 15 games, 1,898 yards at a 6-yard average per carry, 11 touchdowns, a career-long 82-yard effort - and more printers' ink than just about every other TEAM combined this week.
Yes, Week 17 is all about the All Day Show, an intense, microscopic coverage that has highlighted the amazing comeback effort in all its detail and how one of the mightiest of football records might just fall on Sunday night.
Consider this: Peterson already owns the NFL's single-game rushing record of 296 yards, and he has topped 200 four times in his career, including TWICE in the past four games. This week's opponents, Green Bay, were gashed for the little matter of 210 yards when they last tried to stop him, just a month ago.
And you know the biggest surprise in all this welter of stats and information? No-one is in the least bit surprised. If anything, much of the country EXPECTS Peterson to go out and charge for 208 yards, or more.
It is an astonishing affirmation of a player who has gritted his teeth and buckled down to a rehab schedule that would have felled an ox and returned to action even better than before (topping his previous season's best, in 2008, by 138 yards with one game still to go).
So, if you're feeling even slightly jaded at the prospect of a Week 17's action that includes the No Hopers against the Ne'er Do Wells, make sure you tune in for THE most riveting piece of action - kick-off in the Packers-Vikings game (which will be the second live action on Sky Sports 2 HD following the Bears-Lions outing from 5.30pm).
Peterson may not end up as the NFL's new single-season record-holder - after all, if Green Bay isn't loading up for Mission: Stop 'All Day' At All Costs, then they probably haven't been paying attention - but the process promises to be absolutely riveting every time Minnesota has the ball.
You suspect even some of Wisconsin will be pulling for Peterson's record bid, which will pretty much make it unanimous country-wide. And they may just need to re-name him - All Season.