Whittaker ends Newman run
By Jack Woodfield - Twitter @JWoodfield365. Last Updated: 04/10/12 5:52pm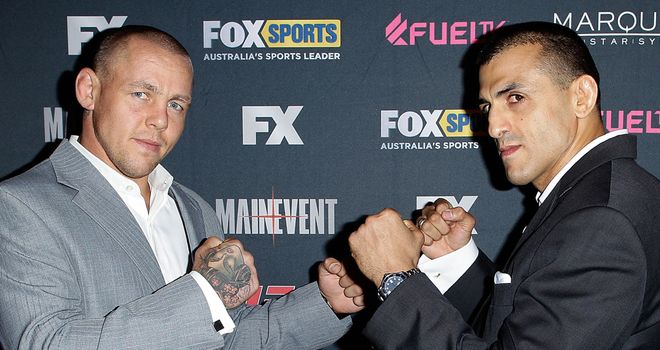 Ross Pearson and George Sotiropoulos: Battling for victory in The Smashes
Australia went 2-1 up in episode three of The Ultimate Fighter: "The Smashes" after Robert Whittaker secured a 19 second knockout of Team UK's Luke Newman.
Newman, who entered the 16th series of the competition with an unbeaten record (5-0), was selected by UK coach Ross Pearson to compete in the next welterweight fight, but was stopped early in the first round after Whittaker (9-2) finished the fight with an impressive ground and pound.
The mind games were on display previously to the fight, as with Newman training out of American Top Team, the same camp Australian coach George Sotiropoulos is from, Pearson asked Sotiropoulos who he was picking for the fight, "country or teammate," with the Australian coach replying, "my boys."
In the quickest fight of the series so far, it was Sotiropoulos' compatriot that emerged victorious, issuing a warning to the rest of Team UK's welterweights.
"That (rush-in tactic) might have worked in England, but not here," Whittaker said.
"I felt a few hits collide, and then he dropped. I saw him hit the floor and I didn't stop. I will be in the UFC one day and it will take more than one man to stop me."
Newman took the defeat in good spirit, despite the UK fighter not exactly knowing where he was after the fight had concluded.
"I really enjoyed the tea cup ride, that was so much fun," Newman joked.
"When I was back in the changing room and the doctor was checking my eyes, I actually thought I was warming up to go out and fight."
Australia now the lead the series 2-1 after Benny Alloway defeated Valentino Petrescu via TKO (punches) in episode one, while in episode two Team UK's Colin Fletcher defeated Ben Wall via unanimous decision.