Ortiz set for Hall of Fame
UFC veteran delighted to receive official recognition
By Jonathan Witty - Twitter: @JonathanWitty. Last Updated: 01/07/12 3:51pm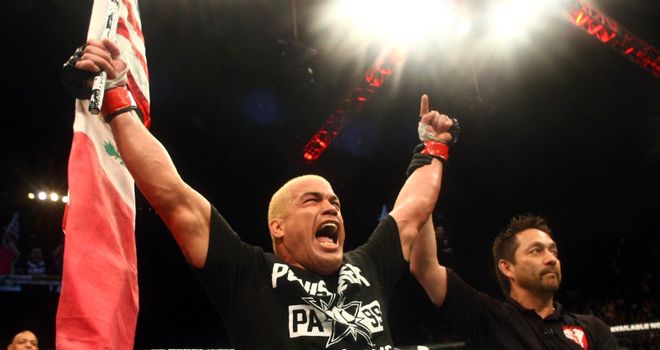 Tito Ortiz: Wants to go out with a win
Tito Ortiz says he is "honoured" to be the latest fighter to be inducted into the UFC Hall of Fame ahead of his final fight on Saturday.
The former Light Heavyweight champion is set to be inducted into the Hall of Fame on Saturday afternoon, just hours before his encounter with Forrest Griffin at UFC 148.
Ortiz still holds the record for the most successful title defences in the Light Heavyweight division and believes his achievements have been down to hard work.
He said: "It is a huge honour to be recognised as one of the greatest fighters of all time by the UFC.
"To be inducted into the Hall of Fame is final proof that all the hard work and dedication, all the pain and sacrifices, were all worth it.
"To be able to walk to the Octagon one last time as an official UFC Hall of Fame level fighter is going to be humbling and awesome.
"I'm very grateful to have this opportunity to end my career on such a high like this."
Outsider
Ortiz is 12/5 outsider with Sky Bet to beat Griffin (1/3) in his final bout and UFC President Dana White, who enjoyed a love-hate relationship with the 'Huntington Beach Bad Boy' over the years, believes he is an icon of the organisation.
He said: "You can't write the story of this era of mixed martial arts without Tito Ortiz, and that's why he belongs in the Hall of Fame.
"He's been in the UFC for 15 years - and sticking around that long is an achievement in itself - and now he's down to just 15 minutes at UFC 148.
"Believe me, I know how proud and stubborn this guy is and I expect him to use everything he has left as a fighter to go out as a winner at UFC 148."