Dos Santos demolishes Mir
Brazilian comfortably defends UFC Heavyweight title
By Jonathan Witty - Twitter: @skybet_Jonathan. Last Updated: 27/05/12 1:08pm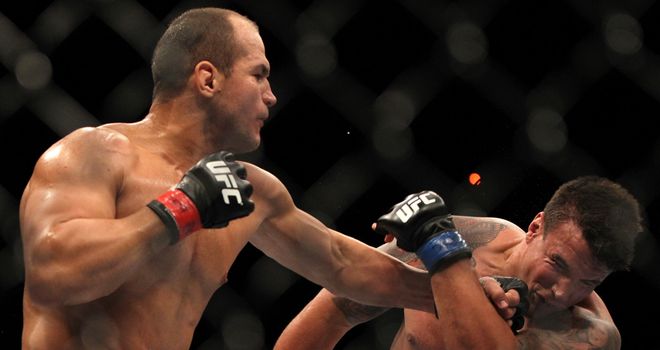 Junior Dos Santos (L): Outclassed Frank Mir to retain title
Junior Dos Santos defended his UFC Heavyweight title in emphatic fashion in a one-sided main event victory over Frank Mir at UFC 146.
Dos Santos dominated the former two-time champion from the opening round and had Mir in trouble on numerous occasions, before finally putting the challenger out of his misery at 3.04 in the second round.
The Brazilian put on a stand-up clinic to prove why he has established himself as the most feared boxer in the top-weight class and even revealed he injured his hand during his punishing display.
"I'm feeling awesome," beamed Dos Santos in his post-fight interview. "It's not bad for a nice guy? Frank Mir is a really good fighter, too. I came here to defend my belt, and I did it."
He added: "He surprised me a lot. Man, this guy can take a punch. My hand is hurt."
Mir conceded: "He's a champ. He's fast. I couldn't get out of the way. He hit me hard. There were just too many of them, and they were hard shots. I couldn't do anything about it."
In the co-main event, former champion Cain Velasquez dominated Antonio Silva with a bloody TKO stoppage late in the first round.
Velasquez capitalised on a mistake by 'Bigfoot' in the opening round and punished the Brazilian with a barrage of blows on the canvas to open up a nasty-looking cut which saw both combatants covered in blood.
Knockout
Elsewhere, Roy Nelson secured one of the 'Knock-out of the Night' awards with a brutal performance against Dave Herman.
Nelson, who had only won one of his last four fights prior to UFC 146, floored Herman with a straight right hand just 51 seconds into the opening round.
Stipe Miocic established himself in the division with a TKO victory over Shane del Rosario in the second round and Stefan Struve caught Lavar Johnson in a first round submission to extend his winning streak to three bouts.
There was also good news on the undercard for two UK fighters as Dan Hardy bounced back from four successive defeats to earn the second 'KO of the Night' award when his trademark left hook helped see off Duane Ludwig via TKO in the first round.
And Paul Sass returned from injury to secure a first-round triangle-choke win against Jacob Volkmann - which was the American's first defeat in over two years - which took 'Submission of the Night' honours.