Mir confident ahead of JDS clash
Veteran Heavyweight reckons he can upset the odds
By Jonathan Witty - Twitter: @skybet_Jonathan. Last Updated: May 25, 2012 4:40pm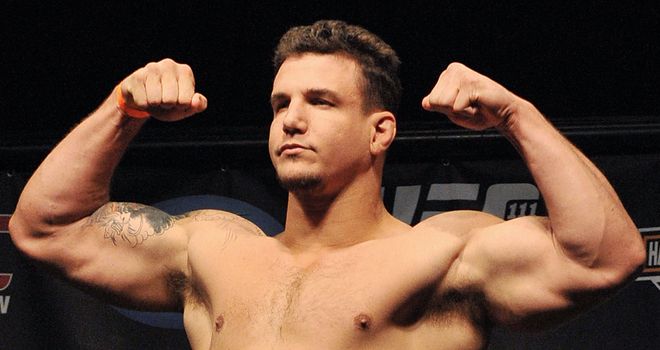 Frank Mir: Ready to become a three-time champion
Frank Mir believes he has the versatility to dethrone Junior Dos Santos at UFC 146 to become a three-time UFC Heavyweight champion.
Challenger Mir has been the perennial underdog in recent years, but is adamant that he can find a way past the Brazilian giant and complete a hat-trick of titles.
SKY BET ODDS
Frank Mir is 4/1 to beat Junior Dos Santos at UFC 146. Can he do it? Bet now.
Although Dos Santos is the overwhelming 1/6 favourite with Sky Bet to make a successful first defence of his belt, Mir believes he will be able to find a way to win when the pair meet in Las Vegas on Saturday.
He told UFC.com: "The one thing I possess is versatility and I can always adapt to find a way to win.
"Dos Santos has a major tool and his boxing is top notch, but whenever he has seen obstacles in his fights he keeps using his boxing.
"This is mixed martial arts, there is more to this than boxing."
He added: "Every fight people doubt me and put me down and I have the most wins of any Heavyweight in this division."
Brutal
Mir received the title shot after Alistair Overeem was removed from the main event after failing a drugs test, but he insists he deserves his shot after securing a brutal submission victory in his last bout against Dos Santos' mentor Antonio Rodrigo Nogueira, which left the Brazilian with a broken arm.
And Mir has attempted to sow seeds of doubt in Dos Santos' mind in the build-up to this bout, by suggesting promised a similar fate for Dos Santos if the champion tries to resist his jiu-jitsu talents.
He continued: "JDS is a young guy, and if I catch him and he taps, he lives to fight another day. If I catch him in a hold and he refuses to tap, is that limb ever going to be the same again?
"If you watch my videos, you study me and you make a mistake and get caught, that's your fault.
"The question is what is your life going to be like afterwards? What is your career going to be like afterwards?
"I'm bigger and stronger. One wrong mistake and he is in trouble and has to tap - or deal with the consequences."