Korean Zombie eyes title
Korean star aiming for top spot
By Jonathan Witty - Twitter: @skybet_Jonathan. Last Updated: May 16, 2012 12:39pm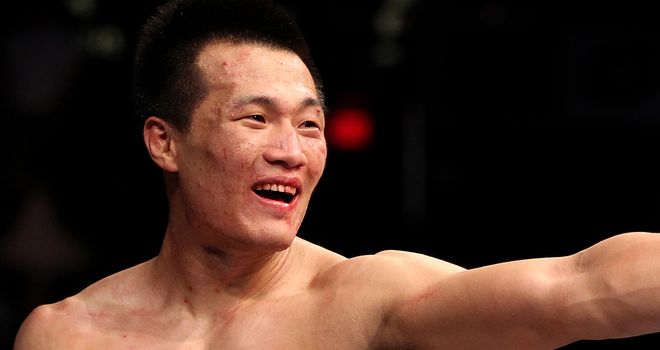 Chan Sung Jung: Eyeing a title shot
Chan Sung Jung is targeting a title shot against UFC Featherweight champion Jose Aldo this year after an emphatic submission win over Dustin Poirier at UFC on Fuel.
The 'Korean Zombie' recorded his third successive UFC win in the fourth round when he secured a D'Arce choke to firmly put his name in the title frame.
Jung dominated the opening two rounds and nearly caught the youngster in a number of submission attempts, before Poirier rallied briefly in the third and rocked the Korean with a couple of stiff jabs.
However, Jung recovered and was able to bounce back in the following round to end Poirier's impressive winning streak and thinks he should face the winner of Aldo v Erik Koch.
"I think I definitely made a point about going into a title fight," Jung said.
"If the fight had gone to a decision, I don't think it would have made the [same] statement.
"Previously, I thought I got lucky in a lot of my fights, but I was able to really showcase my abilities and prove what I could do out there."
He added: "For me, it was [the best moment of my career], but I'm waiting for the day I can become champion."
Trend
Jung has bucked the recent trend of fighters from East Asia struggling in the UFC, with several high-profile Japanese fighters in particular unable to make their mark in North America.
He revealed that travelling and cultural differences are big factors in terms of preparation for key fights and believes that Asian fighters would perform better on home soil.
He added: "It's really hard for Asian fighters to come over here and deal with the time difference and the [fatigue] and the [different] food.
"It's hard to overcome that stuff. If the UFC wants to appeal to a worldwide audience, they need to come to Asia and put on fights. There are lots of fighters better than me, and they need to experience [fighting in the UFC].
"I heard the UFC may come to Shanghai in November. If they came to Korea, it would build a lot of excitement. I think we all want to see [me challenge for the title] in Korea."