Diaz set for title tilt
Diaz set for Lightweight title shot
By Jonathan Witty - Twitter: @skybet_Jonathan. Last Updated: 07/05/12 6:07pm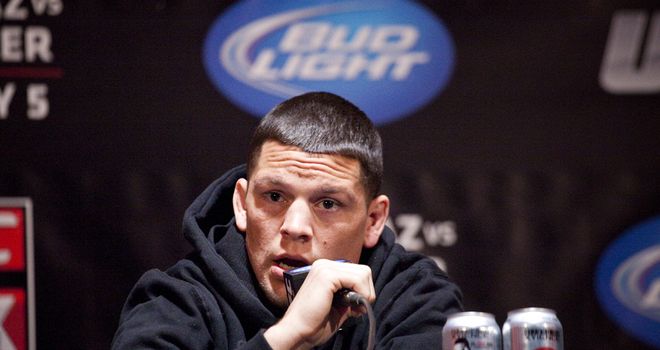 Nate Diaz: Set for Lightweight title clash
Nate Diaz is set for a UFC Lightweight title shot after establishing himself as the number one contender with a submission victory over Jim Miller at UFC on Fox 3.
UFC President Dana White confirmed in his post-fight press conference that Diaz will face the victor of Ben Henderson v Frankie Edgar when the pair face-off for the belt at UFC 150 in August.
The 27-year-old became the first man to stop Miller in his lengthy MMA career when he earned 'Submission of the Night' with a guillotine choke in the second round.
And despite having to wait until late 2012 for his chance to become a champion, Diaz is prepared to wait in order to face champion Henderson or Edgar.
He said: "I don't know [when I will fight] I am just going to wait it out and see what happens. I am down for whatever, whatever they say - but [waiting] sounds good for me. "
He added on UFC.com: "I had a lot on my mind I over-trained and I want a little break. When I started back on a winning steak I haven't stopped training.
"I started to get a bit burned out especially in my mind."
Diaz was also full of praise for Miller, who battled throughout the bout after appearing to suffer a broken nose in the opening round.
He added: "Miller is tough and it was going to be five rounds and it was him or me. It was my time to shine I guess. "I knew it was a five-round fight and I was trying to get to work, without overworking and I felt in pretty good shape."
Tight
In the co-main event, Johny Hendricks secured a hard-fought split decision points victory over Josh Koscheck to put his name in the mix for a title shot.
Hendricks recovered from an eye poke in the opening round to record a tight 29-28, 28-29, 29-28 decision and move himself into the upper echelons of the Welterweight division.
Middleweight Alan Belcher enhanced his title credentials with an impressive TKO victory over Rousimar Palhares.
The Brazilian submission specialist was the 1/3 favourite with Sky Bet pre-match, but Belcher avoided a number of Palhares' signature heel hook submission attempts before sealing victory at 4:18 in the first round with a flurry of punches and elbows.
Finally, Lavar Johnson secured back-to-back wins in the Heavyweight division with a first-round TKO of Pat Barry which earned him 'Knockout of the Night' honours.