Hathaway delight at Krauss win
London fighter targeting more success in 2012
By Jonathan Witty - Twitter: @skybet_Jonathan. Last Updated: 07/05/12 2:43pm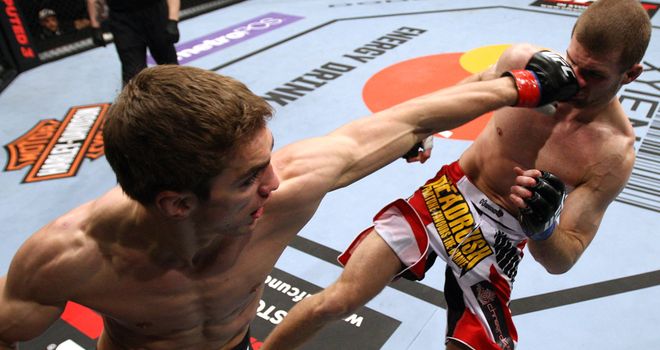 John Hathaway: Pleased with his return to the Octagon
UFC Lightweight contender John Hathaway was delighted with his dominant victory against Pascal Krauss at UFC on Fox 3 following his lengthy injury lay-off.
The London Shootfighters star returned to the Octagon after over 12 months on the sidelines on Saturday night and earned a unanimous decision win against the previously unbeaten German.
Hathaway, now 16-1 in his MMA career, was pleased with his conditioning and insists he is ready to push on this year and re-establish himself in the Lightweight division.
He said: "I'm ecstatic that I got this win! I was able to drop him a few times and he recovered quickly, so I knew I had to capitalise on any opportunity that I got.
"I'm working all areas of my game and I felt quicker, stronger and more aggressive in this fight. I've been successful in this division so far, and I'm ready to keep pushing forward."
Hathaway dominated all three rounds and utilised his wrestling skills to full effect, taking Krauss down on numerous occasions and showing impressive striking in the final round to sway the judges' scorecards.
Philosophical
Also coming off a lengthy injury lay-off, Krauss was philosophical about his defeat and is prepared to learn from mistakes made against the English fighter.
He said: "I have been out for so long, it felt good just to be back in there. I needed to be more aggressive and stop his takedowns.
"Mainly, I needed to get off my back. I stayed on my back way too much in this fight. I didn't expect him to move back so much during the fight."
The 25-year-old added: "It really threw me off that I had to pursue him the whole time. I definitely want to fight more often so that I don't have such a long time in between my fights."