Miller ready for Diaz
Southpaw prepared for battle with Diaz
By Jonathan Witty - Twitter: @skybet_Jonathan. Last Updated: 03/05/12 10:02pm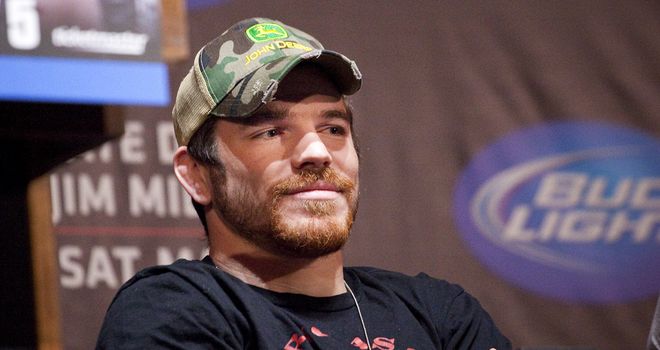 Jim Miller: Confident of moving up the ladder
Jim Miller insists he is not being distracted by potential title scenarios ahead of his Lightweight clash with Nate Diaz at UFC on Fox 3.
Earlier this week UFC President Dana white revealed that a victory for Diaz would earn the 27-year-old a title shot against the winner of champion Ben Henderson v Frankie Edgar, while Miller would have to seal at least another victory before gaining a similar opportunity.
The Southpaw fighter, who has only one defeat in his last nine matches, convincingly defeated Melvin Guillard in his last outing and is totally focused on the job in hand.
He said: "My focus is on this fight. From having a seven-fight win streak to rematches in this division, it really cemented that things changes and things happen.
"So I am not going to sit here trying to predict what will happen with a win or a loss, I am just focused on the fight itself and after that then it is time to speculate about the next fight."
He added on UFC.com: "This is the biggest fight of my career, and every fight is like that, but so is every fight. Nate is a tough opponent and I have a tonne of respect for him.
"He comes from a great camp and does pose threats, but so do I."
Favourite
Miller is the 4/9 favourite with Sky Bet to win this bout after bouncing back from defeat to champion Henderson and the New Jersey native is confident of establishing himself as top contender in the division.
He added: "I plan on being a household name after this fight and one of the household names in the UFC. It's about being the best, beating the best and becoming the champion.
"It's not just about getting a shot of the title, I want to take the title and hold the title until the day I decide I am done with this sport."
Elsewhere on the main card, Josh Koscheck (10/11) takes on Johny Hendricks (11/10) in a Welterweight bout, Brazilian submission specialist Rousimar Palhares is 1/3 favourite against Alan Belcher and in the Heavyweight division, Pat Barry is 1/2 to beat Lavar Johnson (13/8).