Weidman chasing top five
American wants to move up the rankings after late step-in
Last Updated: January 26, 2012 4:22pm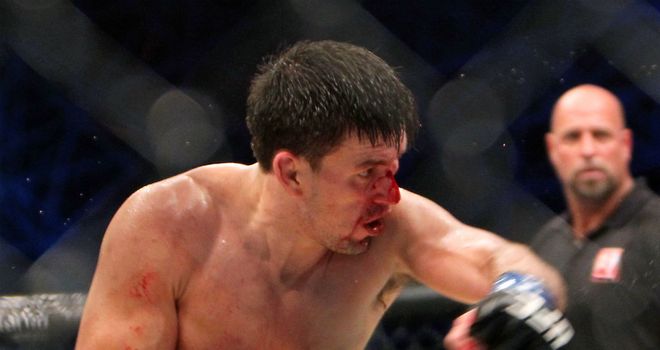 Demian Maia: Focused on facing Chris Weidman
Chris Weidman is chasing a top-five ranking after taking on a fight with Demian Maia at just a week's notice.
Weidman made the decision to take on Brazilian Maia on Saturday night when Britain's Michael Bisping moved up to fight Chael Sonnen in an eliminator for the UFC middleweight title.
SKY BET ODDS
Chris Weidman is 4/7 to beat Demian Maia at UFC on Fox. Bet now.
Despite the short notice of the fight Weidman admitted that there was no way he could turn the opportunity down.
"There was no chance I was going to pass this up, I want to get into the top-five and here's my chance," he said.
"I'm not worried about stepping up at all. I have a lot of respect for Demian's jiu-jitsu, but if we go to the ground, I'm confident and excited to prove I can hang with my own BJJ.
Confident
"He's going to have a lot to worry about too in this fight. I'm not the guy who's going to be star struck just because of the stage or the fact I am stepping up to this level."
However, Maia believes that a lack of preparation time for the American could prove costly and wonders whether he can come into the fight firing on all cylinders.
"I don't know if it is possible for Weidman to be 100% fit after taking the fight at such short notice," he said.
"He is very dangerous, and I guess that I would rather fight him now than after he gets even better and more experienced.
"For sure he will be motivated. I am not going to lose at this stage, though, I have worked too hard to expect a submission after a tough fight."