UFC is the Real deal
Werdum shares tips with Real stars Ronaldo and Casillas
By Jonathan Witty - Twitter: @JonathanWitty. Last Updated: 03/08/12 2:20pm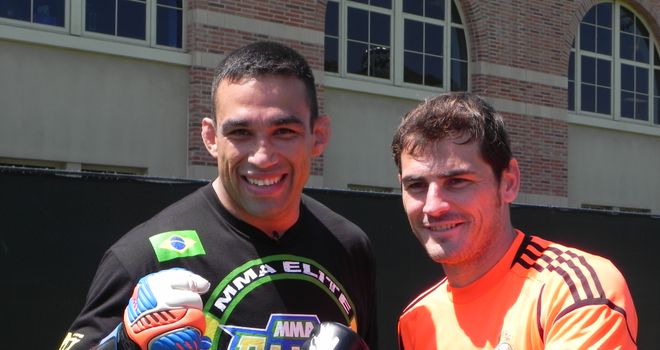 Fabricio Werdum and Iker Casillas
UFC Heavyweight Fabricio Werdum took time out from his training schedule to put Real Madrid duo Iker Casillas and Cristiano Ronaldo through their paces in Los Angeles.
Reigning champions Real are preparing for the upcoming Primera Liga campaign and met with Werdum during a pre-season tour of the US.
Real faced MLS side LA Galaxy on Thursday night and Werdum revealed that he supported Los Merengues because of family ties.
He said: "I for lived 10 years in Spain. I have relatives in Madrid and I have always been a fan of Real.
"It's nice to be here among these players and have the chance to talk about everything. I honestly had a great time.
"I invited Iker to a live UFC event and he liked the idea. Being from Brazil, I play soccer like everyone from my country, but I prefer the Octagon."
The Brazilian is coming off the back of a knock-out victory over Mike Russow at UFC 147 and after swapping his goalkeeper gloves for Werdum's UFC gloves, Spain captain Casillas added: "Luckily this is just pretend because he does hit hard!"
The UFC is returning to the UK next month and tickets for UFC: Nottingham are available now from www.capitalfmarena.com and www.ufc.com.