Pearson prepared
The 'Real Deal' ready to prove a point in 2012
By Jonathan Witty - Twitter: @skybet_Jonathan. Last Updated: 23/12/11 1:46pm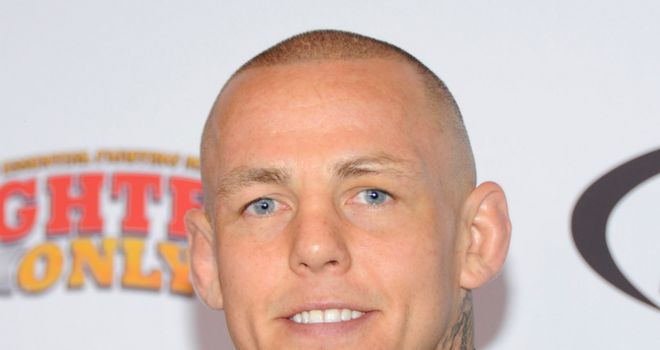 Ross Pearson: Attempting to become the first British fighter to claim a UFC belt
Ross Pearson is preparing for the most important year in his MMA career as he prepares to stake his claim for the UFC Featherweight title.
The former Lightweight fighter has dropped down a weight class as he attempts to become the first UK fighter to win a belt in the world's premier MMA organisation and is targeting his first bout at 145lbs against Junior Assunção at UFC 141 as a stepping stone to the upper echelons of the division in 2012.
SKY BET ODDS
Pearson 1/3 to beat Assuncao at UFC 141, with the Brazilian 12/5 for the win. Bet now.
Pearson suffered a narrow points decision defeat to Lightweight title contender Edson Barboza in a bout that took 'Fight of the Night' honours at UFC 134, and has decided to move weight classes as he eyes a title berth.
He exclusively told skysports.com: "I saw a window of opportunity. I felt there were a lot of guys in the Lightweight division who were all fighting between themselves around the top 10, or top five, whereas I see myself right at the top of the division at 145lbs already.
"I think I am one or two fights away from a title shot and with one or two big statements I could be with in with a chance.
"I'm not getting any younger and I think I can have some big fights in the Featherweight division."
Pearson takes on Assunção on December 30 knowing that an impressive victory would elevate him towards a title shot next year.
He is overwhelming 1/3 favourite to beat the Brazilian with online betting company Sky Bet and Pearson is confident he can control the bout from start to finish.
He continued: "I feel that in the stand-up area I am a much better Muay Thai fighter and a much better boxer. I feel that he is going to want the fight on the floor so I have been working hard on my wrestling and he is going to have to work really hard to take me down.
"Also, if I want to take him down I think I have the power to do so, so the fight will go wherever I want it to go and he will be fighting where I dictate."
Awareness
However, Pearson is aware of Assunção's dangerous ground game and is determined not to take their bout lightly.
His 30-year-old opponent has a seven-fight winning streak and has not tasted defeat since May 2008, but all of those victories have been outside the UFC.
Pearson concedes that Assunção is a talented fighter, but believes that his return to the UFC could be a step too far for him.
He added: "I think this is his biggest fight of his career and he will be coming in as the best Assunção we have seen.
"This is a fight he wants to make his name in this division, but I want it too and he doesn't have the heart or determination that I have.
"I have had to work for everything I have, my parents are like that and so is the rest of my family.
"We're working class people with that attitude, but I was born with a fighting spirit. You can't train to get [fighting spirit] and you can't get that from a book. You are either born with that spirit or you're not."
Training
Pearson credits his confidence ahead of the fight to his impressive training camp at Alliance Gym in California, where he has been sparring with established MMA stars such as UFC Bantamweight Champion Dominick Cruz, Phil Davies and Brandon Vera.
The 27-year-old made the transition to training in the U.S. before the Barboza fight, but feels like he has fully settled into his new environment and is reaping the rewards now.
He said: "Right now I am feeling great. Everything has been amazing, a great camp and I have been training with some amazing fighters. This is the best physically and mentally I have felt for years.
"To me [training at Alliance] has given me a massive psychological edge as I am performing well against high-calibre fighters. I'm improving so fast that for me it is the best thing I have done in my career since coming to the U.S."
Whether Pearson can push on and become the first-ever UFC champion from the UK remains to be seen, but the Sunderland man is following the blueprint of many successful fighters by varying his training to become more rounded.
Pearson is sure this approach will serve him well and reckons that it is a matter of when, not if, he gets his chance to fight for the belt.
He concluded: "If I make a bold enough statement I think it will argue my case for a title shot. MMA is a very unpredictable business and it is down to me to show what I can do and let the UFC know that I am ready."