All-Star Game: American League ends National League's win streak
Last Updated: 17/07/13 7:19am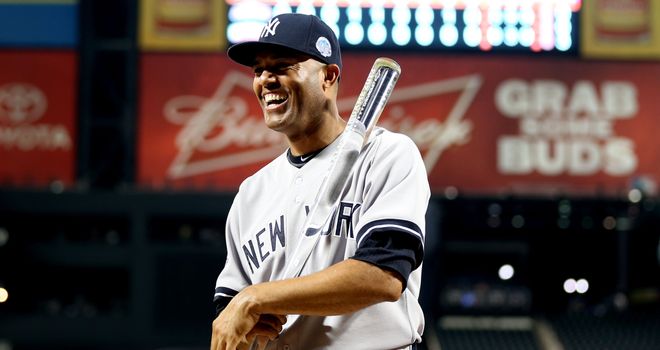 Mariano Rivera: New York Yankees' American League pitcher claimed the MVP award in Tuesday's 3-0 victory
New York Yankees closer Mariano Rivera was named Most Valuable Player in his final All-Star Game as the American League beat the National League 3-0 at Citi Field.
The 42-year-old, the all-time MLB leader in saves, pitched the eighth inning - AL manager Jim Leyland thereby ensuring he would definitely make an appearance - and did it flawlessly.
That was enough to earn MVP honours as the well-respected pitcher played in his 13th All-Star Game in his final season before retiring and earned a standing ovation at the home of the New York Mets.
The result ensured the AL team will have home-field advantage for this season's World Series and also ended a three-game winning streak for the NL.
Forged ahead
The AL took the lead in the fourth when Jose Bautista's sacrifice fly plated Miguel Cabrera, then Adam Jones scored when JJ Hardy grounded into a double play in the fifth.
Jason Kipnis tacked on a third run in the eighth as he doubled in Salvador Perez. The NL did not have a base-runner until the fourth inning and managed just three hits all night.
Pitching in front of his own fans, Mets starter Matt Harvey threw two scoreless innings for the NL, while Chris Sale's two shut-out frames for the AL earned him the win. Texas closer Joe Nathan pitched a scoreless ninth for the save.
The only difficult moment for the AL came in the first inning as Yankees second baseman Robinson Cano was hit by a pitch from Harvey and had to exit the game, though it proved to be nothing worse than a bruised thigh.