MLB: Detroit Tigers continue recent hot streak
Last Updated: 01/08/13 10:40am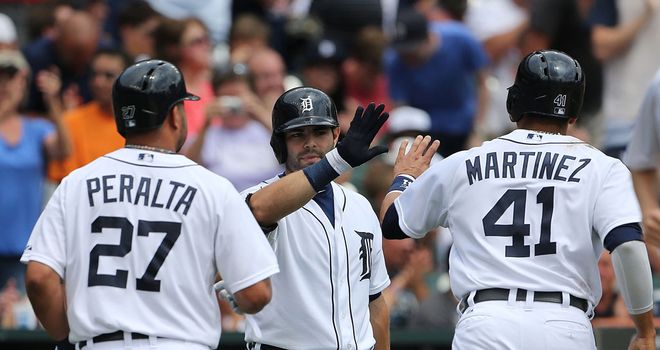 Alex Avila: two-run shot in Detroit Tigers' latest win
Detroit Tigers claimed their fifth straight win with an 11-1 success over Washington Nationals.
Two five-run innings helped the Tigers's cause, while Torii Hunter went four-for-five and finished a triple short of the cycle, Alex Avila hit a two-run shot and Justin Verlander struck out six in six innings.
Adrian Beltre blasted a ninth-inning fastball from Michael Kohn over the left-field fence for a solo homer, and the Los Angeles Angels suffered a walk-off loss to the Texas Rangers, this one by a score of 2-1.
Henderson Alvarez shone in the Miami Marlins' 3-2 defeat of the New York Mets, throwing strongly and adding two hits while scoring a run.
A seven-run third inning did most of the damage as the Atlanta Braves chalked up a sixth straight win with a 9-0 blanking of the Colorado Rockies, while a three-run 10th brought the Toronto Blue Jays a 5-2 success against the Oakland Athletics.
The Houston Astros defeated the Baltimore Orioles 7-0. Brett Oberholtzer tossed seven shut-out innings while Jason Castro's grand slam and Matt Dominguez's four-hit night led the way with the bat.
The Pittsburgh Pirates extended their lead over the St Louis Cardinals at the top of NL Central to two-and-a-half games - Russell Martin's tie-breaking RBI single in the eighth inning setting up a 5-4 success.
Down two runs in the bottom of the ninth, Cleveland rallied to force extra innings, where Carlos Santana led off the 10th with a home run to give the Indians their seventh straight win - 6-5 over the Chicago White Sox, who have now dropped six straight.
Roger Kieschnick enjoyed a winning debut for the San Francisco Giants, driving in two runs in the 9-2 defeat of the Philadelphia Phillies, the Cincinnati Reds snapped a five-game losing streak with a 4-1 win over the San Diego Padres, while the New York Yankees broke open a scoreless contest at the LA Dodgers open in the ninth, winning 3-0.
Stephen Drew played the role of early-morning walk-off hero at Fenway Park, belting a bases-loaded RBI single down the line in right with two outs in the bottom of the 15th inning, capping a 5-4 win for the Boston Red Sox over the Seattle Mariners.
Elsewhere, the Arizona Diamondbacks blanked the Tampa Bay Rays 7-0, the Kansas City Royals edged the Minnesota Twins 4-3, while the Chicago Cubs ended their run of disappointment at the hands of the Milwaukee Brewers with a 6-1 success.