Loeb looms large over Ogier
Citreon drivers dominate on Saturday as French duo battle it out
Last Updated: 29/05/10 10:33pm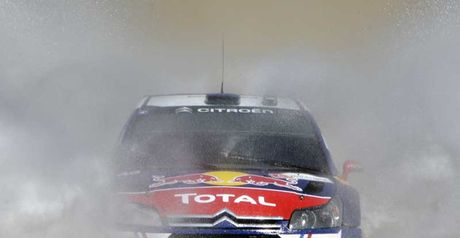 Ogier: Leads by 21.1 seconds
Sebastien Loeb won four of the six stages on day two of the Rally of Portugal - but still trails fellow Frenchmen Sebastien Ogier.
Ogier, who led the New Zealand Rally before a spin on the final stage, had been ahead of Spaniard Dani Sordo overnight.
However the Citroen Junior Team driver was forced to play it safe for much of the day while first out on the road.
While his compatriot was taking a conservative approach, Loeb took risks early on to to win two of the first three stages, in Almodovar and Vascao, and close in on the leader.
Loeb lurking
He repeated that feat in the afternoon to lie second at the end of Saturday, 21.1 second back. Petter Solberg is in third place in his Citreon, a further 10 seconds adrift, having been victorious in stage 10.
With the afternoon's stages taking place over the same three routes, Ogier took advantage of any loose gravel being swept away to win at Almodovar.
"We tried to push all day," Ogier told wrc.com. "It was difficult but we didn't lose a lot of time being first on the road.
"I have to see about my gap to Seb (Loeb) because I know it will be hard again tomorrow."
Loeb, who won the final two stages to take time out of the leader, added: "I have to push tomorrow but the gap is big and he (Ogier) is going very well.
"We are only second on the road tomorrow so it won't be easy to make a difference. He was running very well but at the same time saving his tyres nicely. I was too cautious with my tyres and lost too much time."
1. Sebastien Ogier (France) Citroen 2 hour 58 minutes 48.1 seconds.
2. Sebastien Loeb (France) Citroen 2:51:09.2.
3. Petter Solberg (Norway) Citroen 2:51:40.3
4. Dani Sordo (Spain) Citroen 2:51:53.8.
5. Mikko Hirvonen (Finland) Ford, 2:52:02.0.