WrestleMania: Check out the all-important numbers ahead of 30th edition in New Orleans
Who has won the most matches at a single Show of Shows?
Last Updated: 04/04/14 5:52pm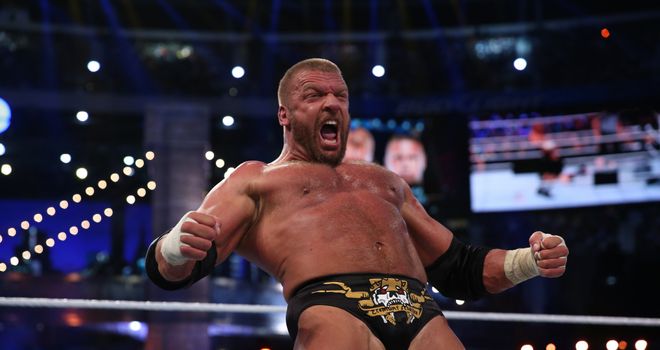 Triple H beat Brock Lesnar at last year's 'Mania - but has lost at the event nine times
WrestleMania has glitz, glamour, pageantry, celebrities, top-drawer wrestling and shocks.
WRESTLEMANIA XXX
Midnight, Sun (Mon)
Live on Sky Sports Box Office
Click here to order
It has also amassed an intriguing array of facts and figures between its maiden showing in 1985 and its most recent version in 2013 - and more are sure to be created on 'Mania 30 on Sunday.
So before the likes of John Cena, Bray Wyatt, The Undertaker, Brock Lesnar, Triple H, Daniel Bryan, Randy Orton and Batista lace up their wrestling boots in New Orleans, have a gander at the Showcase of the Immortals' all-important numbers...
The Undertaker has wrestled in a record TWENTY-ONE matches at WrestleMania and, as you surely know by now, has won every single one of them, with CM Punk his most recent victim in 2013
However, "Macho Man" Randy Savage won FOUR matches at WrestleMania IV, by overcoming Butch Reed, Greg Valentine, One Man Ganga and Ted DiBiase to win the WWF Championship
Triple H has lost the most 'Mania matches, with his tally of NINE including reverses against The Ultimate Warrior, The Undertaker, Batista, John Cena, and his current Director of Operations, Kane
Tito Santana, however, suffered SEVEN Showcase of the Immortals defeats in succession, a run bookended by losses in a tag-team bout to the Funk brothers at #2 and to Shawn Michaels at #8
Jeff Hardy has appeared in the most WrestleManias without winning, losing all FIVE of his matches, three tag-team bouts, a Money in the Bank match and a duel with his brother Matt
The Undertaker has been at every WrestleMania since the 17th version
The Undertaker has competed in the most consecutive WrestleManias, with his THIRTEEN bouts between 17-29 pipping Bret Hart's 12-match streak from the second Show of Shows to the 13th
Kurt Angle is the only man to lose TWO belts at the same WrestleMania, after he shipped the Intercontinental Title to Chris Benoit and the European strap to Chris Jericho - in one match
John Cena has won world titles at FOUR WrestleManias, achieving that feat after beating JBL at #21, Edge and Big Show at #25, Batista at #26 and The Rock last year at #29 in New Jersey
Hulk Hogan has appeared in EIGHT WrestleMania main events, most recently at WrestleMania IX when he beat Yokozuna for the WWF Championship in just 22 seconds in Las Vegas, Nevada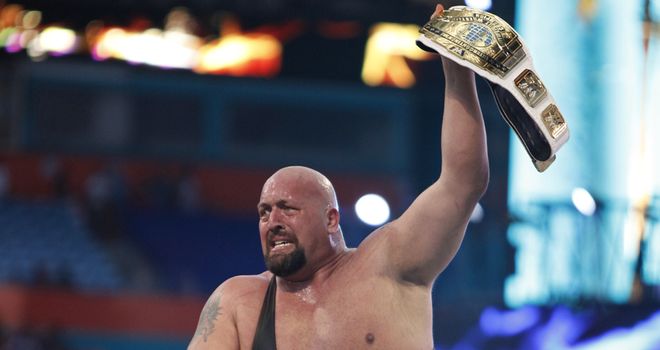 Big Show has kicked off WrestleMania on four occasions
Big Show has featured in FOUR opening matches, including last year when he teamed with Randy Orton and Big Show to tackle The Shield and at #20 when he defend his US Title against John Cena
The longest match in the event's history is the 1hr, 1min, 52second Iron Man contest between Shawn Michaels and Bret Hart for the WWE Championship at WrestleMania 12 in Anaheim
The shortest was when Kane beat Chavo Guerrero for the ECW Championship in just 11 seconds at WrestleMania 24 in Orlando, shortly after winning a pre-show Battle Royal to enter the match
There have been THREE Hair v Hair bouts: Adrian Adonis v Roddy Piper at #2, Victoria v Molly Holly at #20 and Umaga v Bobby Lashley at #23, with the latter resulting in Vince McMahon losing his locks
WrestleMania XXX booking details
WrestleMania XXX will be shown on Sky Sports Box Office (channel 743) and Sky Sports HD Box Office (channel 752) at midnight on Sunday, April 6 (Monday morning).
WrestleMania XXX will be repeated on Sky Sports Box Office (channel 743) BUT NOT Sky Sports HD Box Office (channel 752) between 10am on Monday, April 7 and 10pm on Saturday, April 12.
Repeat showings will last for four hours.
The event is priced at £17.95 for UK customers, €24.95 for customers in the Republic of Ireland.
You can order WrestleMania XXX from Friday, March 28 by pressing the Box Office button on your remote. Select 'sports & events' and follow the on-screen instructions.
Viewers can call 08442 410 888 from Friday, March 28 to book WrestleMania XXX. (There may be an additional charge for telephone bookings).
You can also book WrestleMania XXX online from Friday, March 28 by visiting this link: https://my.sky.com/orderboxoffice/
Cable customers should contact their local cable operator.