WWE Slam City: John Cena, Alberto Del Rio and more forced to get proper jobs
Check out new episodes every week on skysports.com
Last Updated: 31/03/14 4:39pm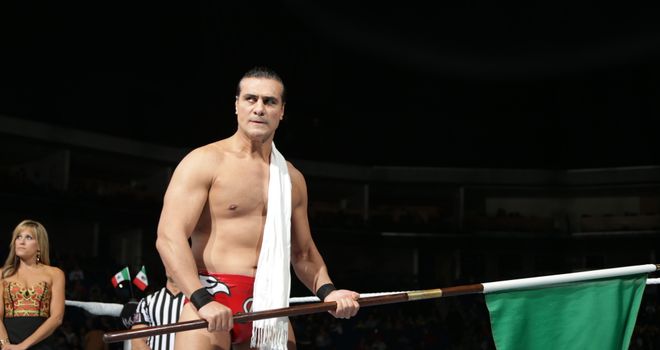 Del Rio: from wrestling expert to coffeehouse barista
Things are going pretty swimmingly for the WWE Superstars in real life - but not so much in the world of animation.
In new show WWE Slam City, a host of grapplers are fired by a mysterious masked man called The Finisher and forced to get 'proper' jobs to in order to make a living.
Fresh episodes hit skysports.com every Monday, but you can keep up to date with how your favourite wrestlers are faring in Slam City with our ever-expanding archive below...
WWE SLAM CITY
Episode 3 - Big Show & John Cena
In Slam City Episode 1 we saw John Cena pick up a new job as a car mechanic. He showed he can tackle a tyre change and jazz up bodywork - but what's his customer relations like? The answer is 'not great', if this is anything to go by... In the latest episode Cena is visited by a BIG customer with a BIG problem. Big Show can't fit into his car - however, The Champ is less than sympathetic. Instead, his smart remarks lead to the pair doing battle in a squared circle made of jump leads, with exhaust pipes, batteries and bumpers all coming in handy as the pair scrap - before Cena finds a novel way of fitting The World's Largest Athlete into his car.
Episode 2 - Alberto Del Rio
Mexico's Greatest Export took to being a coffeehouse barista like a duck to water, with his strength with a whisk ensuring he could make customers' drinks extremely frothy. Unfortunately, Damien Sandow likes his beverages a certain way and was far from amused at how much foam - he really hates foam - had topped his liquid refreshment. The Duke of Decency responded by hurling coffee sludge all over Del Rio's face, leading to a monumental food fight - but it was the aforementioned whisk and a net-wielding civilian that ultimately came to Alberto's rescue...
Episode 1 - John Cena
John Cena has won 14 world championships and beaten the likes of The Rock, Triple H, Randy Orton, Batista and Kurt Angle - but can he change a tyre, fix an oil spill, or jazz up a vehicle's bodywork? Those questions were answered when the West Newbury native took up a job as a mechanic, and stunned his grumpy supervisor with the speed and quality of his work. In a much better mood after seeing what Cena was able to accomplish, the Chain Gang Soldier's boss had one more task for him - find him a girlfriend - but he had to make do with a face wash instead.
WrestleMania XXX booking details
WrestleMania XXX will be shown on Sky Sports Box Office (channel 743) and Sky Sports HD Box Office (channel 752) at midnight on Sunday, April 6 (Monday morning).
WrestleMania XXX will be repeated on Sky Sports Box Office (channel 743) BUT NOT Sky Sports HD Box Office (channel 752) between 10am on Monday, April 7 and 10pm on Saturday, April 12.
Repeat showings will last for four hours.
The event is priced at £17.95 for UK customers, €24.95 for customers in the Republic of Ireland.
You can order WrestleMania XXX from Friday, March 28 by pressing the Box Office button on your remote. Select 'sports & events' and follow the on-screen instructions.
Viewers can call 08442 410 888 from Friday, March 28 to book WrestleMania XXX. (There may be an additional charge for telephone bookings).
You can also book WrestleMania XXX online from Friday, March 28 by visiting this link: https://my.sky.com/orderboxoffice/
Cable customers should contact their local cable operator.