WWE Royal Rumble: Stats on most wins, eliminations and more
Last Updated: 27/01/14 11:13am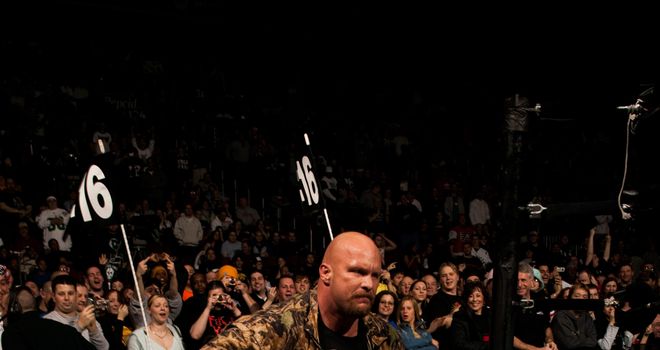 Hot and Cold: Steve Austin has won the Royal Rumble three times
The Royal Rumble produces WrestleMania main-eventers - but it also generates a lorry-load of statistics.
Most eliminations, longest time in the ring, shortest time in the ring, the entrant number which has yielded the most winners... we've picked some gems and whacked them below for you to see.
Check them out and don't forget to book the repeats of this year's event to see what transpire at the 2014 Royal Rumble - and who heads to the Show of Shows...
STONE COLD STEVE AUSTIN has earned a record three Royal Rumble victories, with the Texas Rattlesnake triumphing in 1997, 1998 and 2001
STEVE AUSTIN is also one of only three men, alongside HULK HOGAN and SHAWN MICHAELS, to win back-to-back Rumbles, although John Cena has also won the event twice
The first Royal Rumble, however, was won by "HACKSAW" JIM DUGGAN, who lastly eliminated One Man Gang to triumph in 1988
Masked marvel REY MYSTERIO has spent the longest time in the ring during a single Royal Rumble, surviving a whopping 1hr, 2mins, and 12secs to win the 2006 event
TRIPLE H, though, has amassed the longest combined time in the Royal Rumble match, racking up 3hrs, 51mins and 32 seconds over the course of his eight appearances
The Cobra-wielding SANTINO MARELLA has spent the shortest time in a single Rumble, lasting just 1.9 seconds before being sent packing by Kane in 2009
Speaking of KANE, the Big Red Monster has eliminated the most Superstars in one Rumble, expelling 11 grapplers in 2001, including Honky Tonk Man, Raven and The Rock
But SHAWN MICHAELS has removed the most wrestlers in total, propelling 39 victims over the top rope during his 12 performances in the multi-man melee
KANE, however, has also featured in the most Royal Rumble bouts (16) and also holds the record for most consecutive appearances (13, between 1999-2001)
SHAWN MICHAELS, STEVE AUSTIN and RANDY ORTON have made the final four most frequently (five times), with Batista, Kane, John Cena and Triple H (4) just behind them
The 2002 ROYAL RUMBLE - won by Triple H - was the longest in history (1hr, 9mins, 23secs), while the 1988 ROYAL RUMBLE, which had just 20 entrants, was the shortest (33mins)
The NUMBER 27 has yielded the most Royal Rumble winners, with Big John Studd, Yokozuna, Bret Hart and Steve Austin triumphing from that entry position
CHYNA, BETH PHOENIX and KHARMA are the only Divas to appear in the Royal Rumble match - but each lady has eliminated at least one of their male counterparts
The 2011 ROYAL RUMBLE - which Alberto Del Rio won after tossing out Randy Orton and, finally Santino Marella - remains the only Rumble to feature 40 Superstars
Royal Rumble Repeats booking details
WWE Royal Rumble will be repeated on Sky Sports Box Office (channel 743) BUT NOT Sky Sports HD Box Office (channel 752) between 9am, Monday, January 27 and 9pm, Saturday, February 1. Repeats showing will last for three hours.
The event is priced at £14.95 for UK customers, €21.95 for customers in the Republic of Ireland.
You can order WWE Royal Rumble from Friday, January 17 by pressing the Box Office button on your remote. Select 'sports & events' and follow the on-screen instructions.
Viewers can call 08442 410 888 from Friday, January 17 to book WWE Royal Rumble. (There may be an additional charge for telephone bookings).
You can also book WWE Rumble online from Friday, January 17 by visiting this link: https://my.sky.com/orderboxoffice/
Cable customers should contact their local cable operator.