WWE Royal Rumble: Refresh your memory of the previous 10 winners
Learn how Cena and Batista became two-time Rumble victors
Last Updated: 23/01/15 5:15pm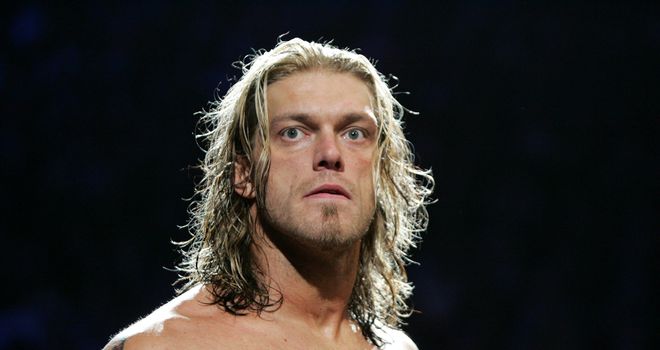 Edge: won the Rumble in 2010 to set up a clash with Jericho
Thirty of the finest wrestlers in WWE headed to Pittsburgh on Sunday with one target: to win the Royal Rumble match.
Whichever man achieves that feat will earn himself a guaranteed shot at the WWE World Heavyweight Championship at WrestleMania 31, when the biggest show of the year emanates from California.
You can see every second of the 2015 Royal Rumble - including the title match between Brock Lesnar, John Cena and Seth Rollins - on Sky Sports Box Office.
But before this year's showpiece gets underway, check out skysports.com's potted history of the previous 10 Rumble bouts.
Read below to see who emerged victorious, who they conquered along the way and, most importantly, whether they went on to win the big one at WrestleMania...
2005 winner: Batista
There was a controversial ending to the 2005 Rumble when both Batista and John Cena's feet connected with the floor at the same time. Raw officials were adamant that The Animal had prevailed, while Smackdown referees believed Cena had triumphed, so Vince McMahon announced the bout would be immediately restarted and Batista was left standing after take two, thundering The Cenation Leader to the ground following a spinebuster. The powerhouse could not initially make his mind up whether to challenge for the WWE or World Heavyweight Titles but eventually opted for the latter after the man holding the belt, his Evolution stablemate Triple H, tried to double cross him. Batista bested The Game at 'Mania to win his first world crown and held the belt until injury forced him to surrender it in January 2006.
2006 winner: Rey Mysterio
The Ultimate Underdog certainly had his day in Miami, lasting an epic 62 minutes and 12 seconds to win the Royal Rumble. Mysterio entered the contest at number two and seized victory by eliminating number-one entrant Triple H and, finally, Randy Orton. Orton would seemingly steal Mysterio's WrestleMania title shot after beating the Master of the 619 at the No Way Out pay-per-view, but SmackDown general manager Theodore Long would later add Mysterio back into the bout, meaning a Triple Threat Match for the World Heavyweight Championship would be contested at the biggest show of the year. Mysterio subsequently defeated reigning titlist Kurt Angle and Orton to scoop his maiden world championship in Chicago.
2007 winner: The Undertaker
The Deadman came to life in 2007 to win the multi-man melee, surprisingly becoming the first man to achieve that feat having entered the duel as the number 30 entrant. The Phenom was joined in the final four by Shawn Michaels, Orton and Edge, but after the Heartbreak Kid eliminated the latter duo, an epic brawl materialised between the two legends. Undertaker survived a vicious Superkick from Michaels - who he would later face at WrestleMania 25 and end the career of at WrestleMaina 26 - and eventually eliminated the Icon to book his berth at WrestleMania 23. Taker opted to face World Heavyweight Champion Batista in Detroit and emerged victorious to claim the belt and maintain his unbeaten record at WrestleMania, which extended to 21 matches before he was bested by Brock Lesnar at WrestleMania 30 in 2014.
2008 winner: John Cena
Cena stunned a raucous WWE crowd in New York's legendary Madison Square Garden by returning earlier than expected from a pectoral injury to win the 2007 Rumble. Triple H entered the match at number 29 and went on to dominate proceedings, eliminating Big Daddy V, Batista, Mick Foley and Kane, but the tide turned when Cena entered the fray and the Chain Gang Soldier registered victory after sending the Game flying to the mat. Cena broke with tradition by choosing to face WWE Champion Randy Orton at No Way Out instead of WrestleMania, but after Orton got himself intentionally disqualified, the rap and muscle-car fan fought for the title at the granddaddy of them all in Orlando, in a Triple Threat Match with Orton and Triple H which Orton won.
2009 winner: Randy Orton
Teamwork paid off for Orton in 2009 when his Legacy comrades TedDiBiase and Cody Rhodes helped him outlast the competition and finally win the Rumble. The Viper, DiBiase and Rhodes joined Triple H in the final four, making a Legacy victory all but certain, but the Game found an extra gear and went on to remove DiBiase and Rhodes from the match in one foul swoop. However, before he had a chance to regroup, Triple H was chucked to the ground by Orton, ensuring the Cerebral Assassin would take the runner-up spot for the second consecutive year. The grapplers' feud was not over, though, and after Orton RKOd Triple H's wife Stephanie McMhaon and defeated his brother-in-law, Shane McMahon, in a singles match, the Game exacted revenge at WrestleMania, beating Orton to retain the WWE Title he had plucked at No Way Out.
2010 winner: Edge
Just like Cena had done in 2008, Edge emerged after an injury hiatus to win his first Rumble in Atlanta, Georgia in 2010. The Rated-R Superstar entered at number 29 and delivered his infamous Spear on remaining participants Chris Jericho, Michaels, Batista and Cena to become the last man standing. Edge bided his time before selecting which championship to fight for at WrestleMania, but eventually pumped for the World Heavyweight Title, held by fellow Canadian and former tag team partner Jericho. The Ultimate Opportunist lost to Jericho at the big bash in Phoenix, Arizona, but gained a modicum of vengeance when he conquered the Ayatollah of Rock 'n' Rolla in a non-title Steel Cage match at the next pay-per-view, Extreme Rules.
2011 winner: Alberto Del Rio
Alberto Del Rio not only won the Royal Rumble. He won the largest Royal Rumble in history. The iconic match featured 40 participants in 2011 and the Mexican Aristocrat, who had only made his WWE debut in June of 2010, bested the other 39 to secure his spot on the WrestleMania card. Del Rio, whose victory came after he sent Santino Marella packing, battled Edge at WrestleMania for the World Heavyweight Championship in what would prove to be the latter's final match before retirement. The Essence of Excellence fought gamely against the Rated-R Superstar, who had lifelong friend Christian accompanying him at ringside, but slipped to defeat after being hit by a Spear. Del Rio continued to flourish in WWE, however, and became a four-time world champion before he was released from his contract in August 2014.
2012 winner: Sheamus
The luck really was with the Irish at the 2012 Royal Rumble, with Dublin-born Sheamus outlasting his peers to triumph. The Celtic Warrior knocked Jericho off the ring apron to win - and become the first European victor of the event - and after much deliberation elected to tackle World Heavyweight Champion Daniel Bryan at WrestleMania in Miami. The Great White, whose match with Bryan for the United States title was left off the 'Mania card in 2011, made light work of the submission specialist, catching him unawares with a devastating Brogue Kick to garner the win and the title in just 18 seconds. Sheamus would defeat Bryan in a two-out-of-three-falls match at Extreme Rules to retain his strap, before losing it to Big Show at Hell in a Cell in October 2012.
2013 winner: John Cena
You can call him The Cenation Leader, you can call him The Chain Gang Soldier, and, if your memory stretches that far, you can call him the Doctor of Thuganomics, but you now must call him a two-time Royal Rumble winner. Cena sent Ryback tumbling over the top rope 12 months ago and, after overcoming CM Punk in a wrestling clinic when his 'Mania berth was on the line, the West Newbury native met The Rock for the WWE Title at the Show of Shows. Cena responded to his defeat at the hands of The Great One a year earlier by emerging victorious and remained holding gold until he was pipped by a fired-up Daniel Bryan in a pulsating match at SummerSlam in Los Angeles. Still, as he will grapple for the WWE World Heavyweight Championship at this year's Royal Rumble, Cena's dream of main-eventing 'Mania once again remains attainable.
2014 winner: Batista
Nine years after winning his first Royal Rumble, things went full circle for Batista as he edged the 30-man dust-up for the second time. The Animal held his nerve to lastly topple Roman Reigns, the then Shield Superstar who had run roughshod earlier in the match, eliminating 12 of his peers, including third-placed Sheamus and the veteran Kevin Nash. Unlike in 2005, Batista was not a popular winner, with fans irked when their darling, Daniel Bryan, was prevented from competing. Bryan had the last laugh, though, dealing with everything The Authority threw at him to firstly earn a place in Batista and Randy Orton's main event at 'Mania and then win it by forcing The Animal to tap out to the "Yes!" Lock. Batista remained with WWE for a few months after that but quit over the summer and has not been seen in a wrestling ring since.
Watch WWE Royal Rumble, live at 1am on Sunday on Sky Sports Box Office or follow our interactive blog at www.skysports.com/wwe.
Royal Rumble booking details
WWE Royal Rumble will be shown at 1am on Sunday, January 25 (Mon) on Sky Sports Box Office (channel 743) and on Sky Sports HD Box Office (channel 752).
WWE Royal Rumble will be repeated on Sky Sports Box Office (channel 743) BUT NOT Sky Sports HD Box Office (channel 752) until 9pm on Saturday, January 31.
Repeats showing will last for three hours, with the final showing BEGINNING at 9pm on Saturday, January 31.
The event is priced at £19.95 for UK customers, €24.95 for customers in the Republic of Ireland.
Viewers can call 08442 410 888 from Tuesday, January 13 to book WWE Royal Rumble. (There may be an additional charge for telephone bookings).
You will be able book WWE Royal Rumble online from Tuesday, January 13 by visiting this link: https://my.sky.com/orderboxoffice/
You can also order WWE Royal Rumble at a later date by pressing the Box Office button on your remote. Select 'sports & events' and follow the on-screen instructions.
Cable customers should contact their local cable operator.