WWE Smackdown: Big E Langston-CM Punk and Real Americans-The Usos
Last Updated: October 21, 2013 6:00pm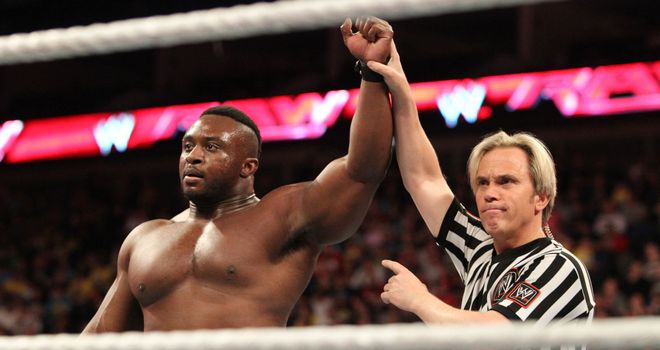 Langston: will combat Punk on Smackdown
CM Punk will fight Ryback and Paul Heyman at Hell in a Cell - but faces a Big challenge on Smackdown.
The Second City Saint will go one-on-one with Big E Langston on Friday, a man who has proven he has swiftness as well as size since he debuted as Dolph Ziggler's enforcer in WWE circa a year ago.
Langston has parted ways with former World Heavyweight Champion Ziggler, but is now breaking out on his own and a victory over a Superstar as decorated as Punk could propel him to new heights.
However, the Chicagoan has defeated many wrestlers of larger stature before and will be hoping to do so again as he gets set to face his former friend, Heyman, and his muscular mate, Ryback, at the next pay-per view.
Will Langston pull off an upset win? Or will Punk prevail? And will Heyman and Ryback try to get involved? All will be revealed on Sky Sports...
Aside from Langston, there may be another Big presence when the blue brand rolls into Kansas City in the shape of the Big Show, who has been fired but opted not to leave WWE behind.
The World's Largest Athlete was given his marching orders after interfering in the Battleground main event between Daniel Bryan and Randy Orton, but has since knocked out the WWE Chief Operating Officer and helped Goldust and Cody Rhodes snare the Tag Team Titles.
Will the giant do any more damage?
Elsewhere, Bryan's fiancée will take on Tamina Snuka in a rematch from Raw, while The Real Americans and The Usos - who, no doubt, have intentions of seizing the gold recently acquired by Rhodes and Goldust - will meet in a tag team tussle.
Catch WWE Smackdown, 9pm, Friday, Sky Sports 3 or tuck into one of the repeat showings: 10am, Sat, Sky Sports 4; 1am, Sun, Sky Sports 4; 5pm, Tue, Sky Sports 3.
Hell in a Cell booking details
WWE Hell in a Cell will be shown on Sky Sports Box Office (channel 743) and Sky Sports HD Box Office (channel 752) at 1am on Sunday, October 27 (Monday morning).
WWE Hell in a Cell will be repeated on Sky Sports Box Office (channel 743) but NOT on Sky Sports HD Box Office (channel 752) between 9am on Monday, October 28 and 9pm on Saturday, November 2. Repeats showing will last for three hours.
The event is priced at £14.95 for UK customers, €21.95 for customers in the Republic of Ireland
You can order WWE Hell in a Cell from Friday, October 18 by pressing the Box Office button on your remote. Select 'sports & events' and follow the on-screen instructions.
Viewers are able to call 08442 410 888 from Friday, October 18 to book WWE Hell in a Cell. (There may be an additional charge for telephone bookings).
You can also book WWE Hell in a Cell online from Friday, October 18 by visiting this link: https://my.sky.com/orderboxoffice/
Cable customers should contact their local cable operator.