skysports.com looks at The Undertaker's WrestleMania victims
Last Updated: 02/04/13 1:05pm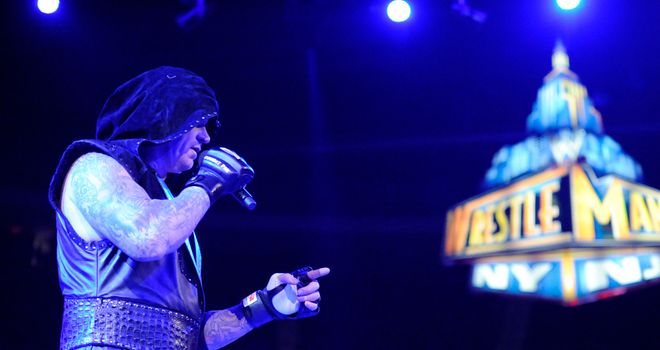 Undertaker: will move to 21-0 at WrestleMania if he bests Punk
Like Floyd Mayweather's professional boxing record, The Undertaker's WrestleMania index has a big zero in the loss column.
The Demon of Death Valley has won each of his 20 matches at the Showcase of the Immortals, with his debut victory over Jimmy "Superfly" Snuka at WrestleMania 7 in 1991 and last year's triumph over Triple H currently bookending a stellar résumé.
And ahead of the Undertaker's bout with former WWE Champion CM Punk at 2013's showpiece event in New Jersey, skysports.com takes a close look at some of the luminaries to have fallen to the Phenom at the grandest stage of them all...
Diesel
After conquering Snuka, Jake "The Snake" Roberts and the gargantuan Giant Gonazalez and King Kong Bundy at his first four WrestleManias, Undertaker locked horns with Diesel at WrestleMania 12 in Anaheim, California in 1996. In a titanic tussle that lasted nigh on 17 minutes the Phenom downed his lofty foe to take his record to 5-0, a tally he would increase to six the following year when, after being assisted by Bret Hart, he defeated Sycho Sid to pluck his second WWE Title.
Kane
The Undertaker has had a long and storied rivalry with his half-brother Kane and beaten his sibling twice at the big event - at WrestleMania 14 when his opponent had Paul Bearer in his corner, and at WrestleMania 20 when the Father of Destruction was on his side. The Phenom competed at four 'Manias in the time between those bouts with the Big Red Monster, knocking off Big Boss Man, Triple H and Ric Flair, before vanquishing Big Show and A-Train in a handicap contest at WrestleMania 19.
Batista
The Deadman continued his epic WrestleMania run into the mid-2000s, edging Randy Orton at the 21st showing of the event and then locking Mark Henry in a casket to prevail at the 22nd, and he became the first Superstar to seize both the WWE Championship and World Heavyweight Title at 'Mania when, after winning the 2007 Royal Rumble, he beat Batista for the latter in at Mania' 23. Taker would repeat the trick a year later and beat Edge for the World Heavyweight strap, despite the best efforts of the Rated-R Superstar's entourage.
Shawn Michaels
The Heartbreak Kid was the Demon of Death Valley's opponent at WrestleMania 25, earning the chance to end the streak after besting both John Bradshaw Layfield and Vladimir Kozlov in singles matches on Monday Night Raw. Michaels gained the upper hand in the weeks leading up to the bout but became the latest man to "Rest in Peace" when he was downed at the end of a classic encounter. So tormented at his loss was Michaels that he goaded Taker into a rematch at 'Mania 26 in a career versus streak contest - but once again came up short and was forced to retire.
Triple H
The Game has succumbed to the Undertaker at the previous two WrestleManias, in Georgia and Miami respectively, but not before putting in tremendously valiant performances. The King of Kings was beaten in a No Holds Barred duel in 2011 when he was caught in the Hell's Gate submission manoeuvre - though the beating the Phenom took meant he could not walk to the back without assistance. Triple H then lost a Hell in a Cell match in 2012, which Michaels served as guest referee, as The Phenom chalked up his 20th victory at WWE's flagship pay-per-view.
Click here to see our image gallery of Undertaker's streak
WrestleMania booking details
WrestleMania 29 will be shown on Sky Sports Box Office (channel 743) and in high definition on Sky Box Office HD (channel 752) at midnight on Sunday, April 7 (Mon morning).
WrestleMania 29 will be repeated on Sky Sports Box Office (channel 743) - but NOT on Sky Sports Box Office HD (channel 752) - between 10am on Monday, April 8 and 10pm on Saturday, April 13. Repeat showings will last for four hours.
The event is priced at £17.95 for UK customers, €24.95 for customers in the Republic of Ireland.
You can order WrestleMania 29 nearer the event by pressing the Box Office button on your remote. Select 'sports & events' and follow the on-screen instructions.
Viewers are able to call 08442 410 888 to book WrestleMania 29.(There may be an additional charge for telephone bookings).
You can also book WrestleMania 29 online by clicking this link www.sky.com/orderboxoffice
Cable customers should contact their local cable operator.