NHL: Predators progress
A review of Friday's action in the National Hockey League
Last Updated: 21/04/12 6:17am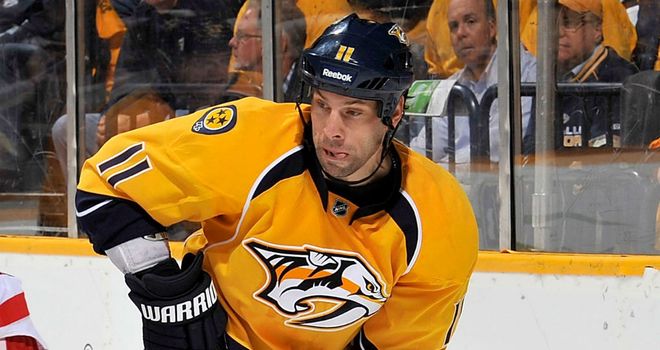 David Legwand: Scored the decisive goal for the Predators
The Nashville Predators are the first team to progress to the next stage of the NHL play-offs following a 2-1 win over the Detroit Red Wings.
David Legwand, a Detroit native, scored the decisive goal 13 seconds into the third period to seal a 4-1 series success for the Predators.
Sidney Crosby's Pittsburgh Penguins stayed alive in their series against the Philadelphia Flyers following a 3-2 win on home ice.
The Penguins looked set for an early exit when they fell 3-0 behind in the series but back-to-back wins has engineered thoughts of an unlikely comeback.
Steve Sullivan, Jordan Staal and Tyler Kennedy scored the goals while Marc-Andre Fleury made 24 saves to send the series to Game Six in Philadelphia on Sunday.