Skiing: Mikaela Shiffrin send a message to her Olympics rivals by winning in Levi
Last Updated: 17/11/13 3:11pm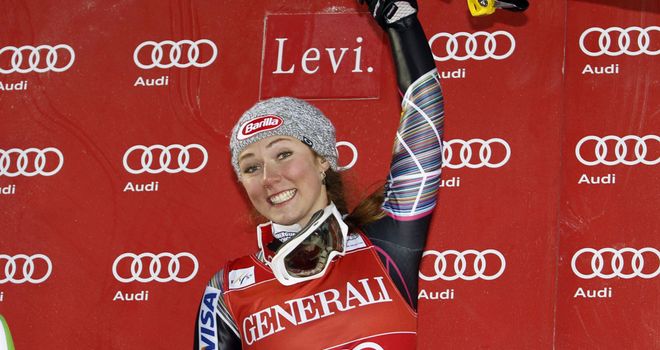 Mikaela Shiffrin: Won by more than a second in Levi
American teenager Mikaela Shiffrin won the opening World Cup slalom event by more than a second in Levi, Finland.
The 18-year-old world slalom champion defeated reigning Olympic champion Maria Hoefl-Riesch of Germany to send an immediate message to her rivals ahead of the Sochi Olympics.
She led by half a second after the first run and raced seamlessly at the top of the hill in the second to extend her advantage, overcoming a mistake near the end to clock a combined time of 1 minute, 55.07 seconds.
Hoefl-Riesch, who was in a tie for third place after the first run, skied nearly flawlessly in the second but still finished 1.06 seconds behind in second place.
Last year's overall World Cup champion Tina Maze of Slovenia, who struggled in the giant slalom opener in Soelden last month, was third, 1.61 back.
Shiffrin emerged as a major star in the discipline last season by winning both the World Cup slalom title and the world championship race, making her one of the major medal favorites for Sochi.
"I'm really happy with how the day went and I'm also really excited because it looks like there are some pretty fast girls in the back of the pack," Shiffrin said.
"I'm excited for the Olympics for sure but there are a couple of races between now and then, so hopefully I can just keep this going.
"Every day there is something you can do better. I'm going to go back and study my skiing from today and study all the other girls to see who is doing what well and try to get better."
Another 18-year-old also made a name for herself, as Christina Ager of Austria finished fourth in her first career World Cup start.
Ager started with bib No. 53 but was fifth after the first run in part because of favorable winds and then missed the podium by just 0.07 seconds.
Marlies Schild of Austria, the slalom specialist who injured her knee in December 2012, returned for the first time since recovering fully but was already well behind Shiffrin in the first round by the time she missed a gate and skied out.