America's Cup: Team New Zealand made to wait as high winds cancel race 13
Last Updated: 20/09/13 3:09pm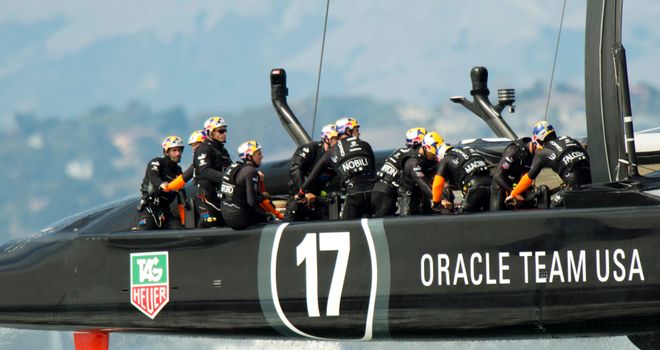 Oracle Team USA: Kept alive their hopes of retaining the Auld Mug for a little longer
Oracle Team USA kept their slim hopes alive of retaining the America's Cup with victory over Emirates Team New Zealand in race 12.
Jimmy Spithill's crew triumphed by 31 seconds to record their fourth triumph of the series, though they still trail 8-2 after being penalised two points before racing began.
Oracle impressed right from the start after New Zealand skipper Dean Barker got too close to the line too early. The Kiwis had to bear away a bit, and Spithill hooked behind them and into controlling position.
"We have to finish this thing," said Ben Gordon, a New Zealander who actually lives in San Francisco. "The boat's are dead even and it's getting a bit dodgy."
Team New Zealand were denied the chance to secure the Auld Mug late on Thursday as race 13 was postponed due to high winds.
The best-of-17 series is being held in San Francisco after Oracle won the right to pick the venue following their success in Valencia, Spain in 2010