MLB: Yankees win again
Home runs see Yankees to victory in Detroit
Last Updated: August 10, 2012 8:15am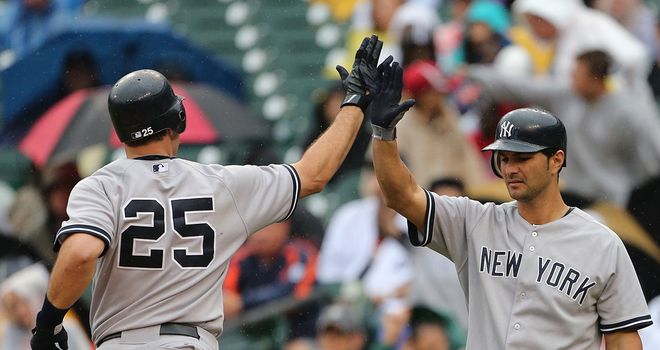 Yankees Mark Teixeira (l) and Eric Chavez celebrate
Back-to-back solo home runs from Mark Teixeira and Eric Chavez helped the New York Yankees beat the Detroit Tigers 4-3 in Major League Baseball on Thursday.
Both men hit homers in the eighth inning to swing the contest New York's way.
Yankees manager Joe Girardi was ejected after tossing his cap during an argument over a call with the third-base umpire in the fifth inning, but his side held off the Tigers.
The American League East leaders' win meant the four-game Comerica Park series was split 2-2.
Elsewhere, Tampa Bay completed a three-game sweep of Toronto with a 7-1 victory over the Blue Jays, Matt Moore allowing only two hits over six innings for the Rays.
The Boston Red Sox slumped to their third straight loss, going down 5-3 to Cleveland at Progressive Field. Ubaldo Jimenez struck out a season-high 10 batters for the Indians.
The Baltimore Orioles' five-game winning streak ended with an 8-2 home loss against Kansas City, Billy Butler's three-run homer lifting the Royals to a third consecutive victory.
Snapped
In the National League, Alfonso Soriano belted a tie-breaking, two-run homer in the eighth inning as the Chicago Cubs snapped an eight-game losing run with a 5-3 success against the Cincinnati Reds.
Washington extended their winning streak to six games with a 5-0 triumph over the Houston Astros, Jordan Zimmermann striking out 11 over six innings for the East-leading Nationals.
Finally, Adam Wainwright threw seven solid innings as the St Louis Cardinals defeated the West-leading San Francisco Giants 3-1 and two two-run homers from Jason Kubel helped the Arizona Diamondbacks to a 6-3 win over the Pittsburgh Pirates.