MLB: Bumgarner sinks Reds
A review of Thursday's action in the Major League Baseball
Last Updated: 29/06/12 7:33am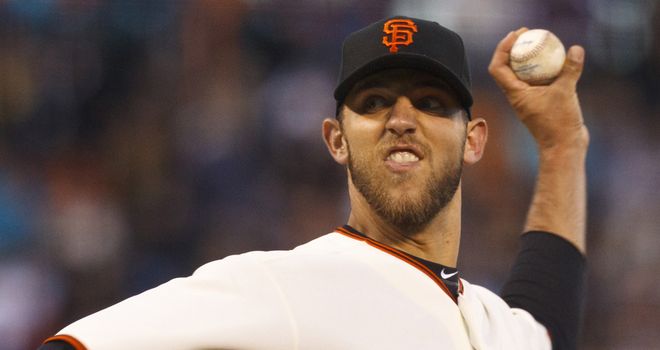 Madison Bumgarner: Led the way for San Francisco Giants
Madison Bumgarner tossed a one-hitter as the San Francisco Giants eased to a 5-0 win over the Cincinnati Reds.
The Reds' only hit came on Ryan Hanigan's single in the sixth as Bumgarner struck out eight and walked just two.
Gregor Blanco, Ryan Theriot, Angel Pagan and Pablo Sandoval each drove in a run for the Giants.
Felix Hernandez threw a complete-game shut-out to give the Seattle Mariners a 1-0 win over the Boston Red Sox.
Hernandez piled up 13 strikeouts, allowing four hits and walking one, and the Mariners walked off on an RBI single from pinch hitter John Jaso in the ninth.
Right fielder Cody Ross appeared to have thrown out Casper Wells at home plate, but the ball popped out of catcher Jarrod Saltalamacchia's glove as he attempted to make the tag.
Dayan Viciedo hit a three-run homer in the ninth as the Chicago White Sox rallied to end the New York Yankees' five-game winning streak.
Viciedo cranked his 14th long ball of the year off David Robertson to put the White Sox 4-3 ahead, and Addison Reed did the rest, picking up his 11th save of the season.
Homers
The Pittsburgh Pirates scored five in the first to help give AJ Burnett his eighth straight win in a 5-4 victory over the Philadelphia Phillies.
Burnett allowed three runs in 6 2/3 innings, while Casey McGehee and Pedro Alvarez both homered in the first.
Mark Trumbo and Mike Trout each hit two-run homers and Albert Pujols scored three times on four hits as the Los Angeles Angels beat the Toronto Blue Jays 9-7.
Alberto Callaspo also went yard for the Angels, while Jose Bautista hit his league-leading 26th long ball of the season for the Jays.
The Colorado Rockies threw away a seven-run lead before finally beating the Washington Nationals 11-10 in the 11th on Marco Scutaro's walk-off RBI single.
Alexi Amarista belted a pinch-hit grand slam as the San Diego Padres scored six in the ninth to rally for a 7-3 win over the Houston Astros.
The Texas Rangers beat the Oakland Athletics 7-6 despite home runs from Josh Reddick, Derek Norris and Cliff Pennington, while the New York Mets beat the Los Angeles Dodgers 3-2 with the help of a solo shot from David Wright.
The Arizona Diamondbacks beat the Atlanta Braves 3-2, the Detroit Tigers were 5-2 winners over the Tampa Bay Rays and the Cleveland Indians overcame the Baltimore Orioles 7-2.