MLB: Mets sinks Rays
Mets and Tigers among the winners on Thursday
Last Updated: June 15, 2012 8:10am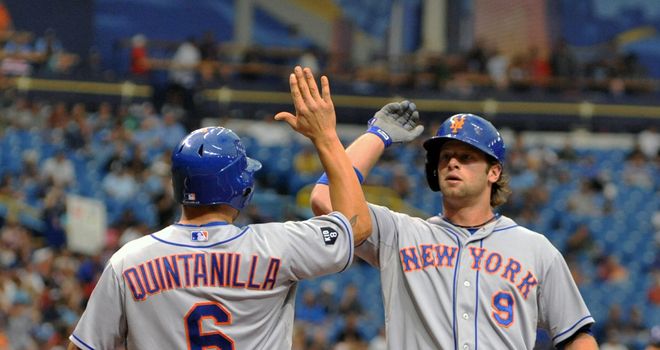 Kirk Nieuwenhuis: Celebrates with Quintanilla
Kirk Nieuwenhuis' two home runs helped New York Mets claim a 9-6 victory over the Tampa Bay Rays in Major League Baseball on Thursday.
Nieuwenhuis led off with his first long ball and added his second, a two-run shot, in the fourth.
Jason Bay also went yard, while Johan Santana earned a win despite managing only five innings, surrendering four runs on six hits and four walks.
Meanwhile Justin Verlander earned his first win since May 18 as the Detroit Tigers beat the Chicago Cubs 5-3.
Verlander hurled eight innings, allowing two runs on five hits and fanning eight.
Austin Jackson scored twice and drove in three on three hits, including a two-run shot in the ninth.
Steve Pearce had a career high five RBI in the Baltimore Orioles' 12-6 win over the Pittsburgh Pirates.
Pearce's haul included a three-run homer, while Matt Wieters also drove in five and Mark Reynolds went yard as the Orioles swept the Pirates.
Grand slam
JD Martinez belted his first career grand slam to lift the Houston Astros to a 6-3 win over the San Francisco Giants a day after being on the wrong end of Matt Cain's perfect game.
Jarrod Parker hurled seven scoreless innings as the Oakland Athletics saw off the Colorado Rockies 8-2.
David Freese homered and had three RBI as the St Louis Cardinals beat the Chicago White Sox 5-3.
Brandon Phillips went long on his way to a four-RBI haul in the Cincinnati Reds' 12-5 win over the Cleveland Indians.
Jim Thome's 607th career homer helped the Philadelphia Phillies beat the Minnesota Twins 6-1.
The Kansas City Royals walked off against the Milwaukee Brewers for a second straight night, scoring twice in the ninth for a 4-3 win and a series sweep.
The Arizona Diamondbacks avoided being swept with an 11-3 win over the Texas Rangers and the San Diego Padres overcame the Seattle Mariners 6-2.