Skiing: Myhrer surprise
Swede takes surprise title after nightmare for big two
Last Updated: 18/03/12 2:06pm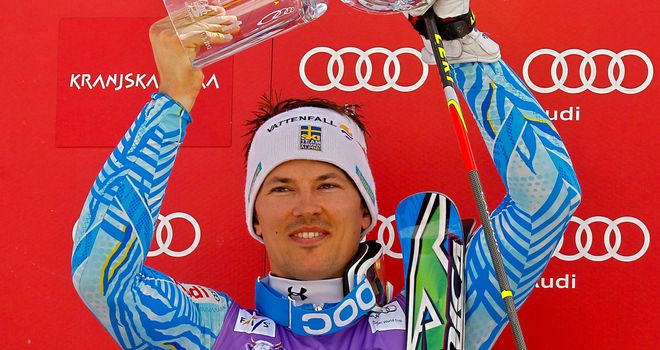 Andre Myhrer: Slalom champion
Andre Myhrer snatched the men's slalom World Cup title in thrilling fashion after winning the final race of the season in Austria.
Lying in third place in the standings going into the final race of the event, the 29-year-old Swede came home in front ahead of Germany's Felix Neureuther and Austrian Mario Matt.
Myhrer's fairytale victory came as overall leaders Ivica Kostelic of Croatia and Marcel Hirscher of Austria both crashed out of contention as they had nightmare final races.
Kostelic fell after only four gates and, despite making a point of finishing the race, lost what was a comfortable 66-point lead to throw the title away.
Hirscher could not capitalise as he straddled a gate and the title went to Myhrer, who became the first Swede to win it since 1993.
"I'm all over the place. It's totally unexpected. I was lucky and I knew I had to expect something special. But there was a chance and I took it," said Myrher. "I'm so happy. I fought so long for this, it's incredible."
Kostelic, the 2011 World Cup champion, had his season disrupted by a knee injury after a crash in February but he could still not believe how his final race ended.
"I just don't know what happened. I felt good and all of a sudden I found myself on my backside," he said.
Hirscher still had the consolation of the overall World Cup title he won on Saturday after his Swiss rival Beat Feuz after pulled out of the slalom on Sunday.